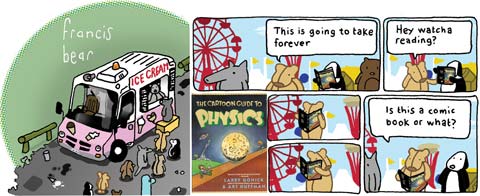 The Cartoon Guide To Physics
Cartoonist Larry Gonick has carved a career out of making complexities understandable. With a great range of engaging educational titles ( History of the World, Chemistry, Genetics etc ), under his belt, hopefully he'll tackle economics soon enough. In the meantime, Physics is covered already, which Gregory Mackay's Francis Bear was happy enough to run his paws through. ( Click for full comic, text was too small to read when the comic had to squeeze into this column).

More Francis?
Wrestling Sylvester Stallone, and before that, comic reviewing Mr.Instructional Comics himself, Scott McCloud.
And in other hemispheres, Francis has been gracing the pages of illustrious French graphic novel compilations..
Autobot Roulette: