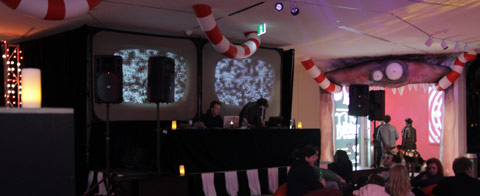 In an alternate universe you have been asked to do some live remixing of Tim Burton related films. However, in that universe, inter-universe messaging systems are commonplace, and your alternate self received the following, hopefully helpful note about possible films to sample.
Take Me Back To Wonderland
Congratulations on your assignment, you are going to have fun – there's plenty of room to move here, from the whimsy of Pee Wee Herman's Big Adventure through to much more macabre and grotesque cinema. And this little known fact should help: Bit Torrent works the same in all known universes.
Alice in Wonderland is a great place to start digging. Try the Ravi Shankar soundtrack soaked 1966 BBC production (one of the most psychologically engaging Alice films), with Sir John Gielgud and Peter Sellers. And there are twenty or so other versions, but Jan Svankmajer's stop motion Alice packs more invention than most. His short film Ossuary, about visiting a cathedral of bones will cross-edit nicely too.
If you lived in a universe where Prince wasn't a newly religious recluse who complained about the internet killing culture, you'd probably find the combination of his Batdance music video ( half joker face, half batface, 80's music video aesthetics representing) and the unaired pilot episode of Batgirl irresistible. Especially say, when paired with matching shots of his purpleness on the rain era motorbike, and Batgirl swaying on her batbike in front of a green screen, while a presumably expensive blow-drier makes like wind with her hair.
Hit Tim Shiel / Faux Pas up ( iamfauxpas.com = alternaverse friendly) for some Major Beetle Juicy Lazer file transfers. Sadly, Tim is unavailable in other universes for live soundtracking and sonic manipulation of video clips, but if you've got the bandwidth, he'll bring the Day-O / Beetlejuice dinner / remix party – with Harry Belafonte and the muppets, karaoke dreamers, ableton live splinter video cut-ups, and a Major Lazer infused Day-O for dessert.
Tim will also remind that Janelle Mondae's 'Wondaland' is great accompaniment for Alice's rabbithole comedown. He'll also likely recommend a deluxe edit of Janelle Mondae's The Archandroid album – "delete tracks 9, 10, 11, 18 and try again – another bloated over-ambitious r&b/futurefunk record saved by some judicious editing. 78 mins of blah becomes 47 mins of pure gold!"
In your universe, Ed Wood wears budgie smugglers and complains about boat people refugees while he directs films – and the Political Opposition leader of your country, Tony Abott, slinks about Parliament after hours in a blouse and skirt, with matching stockings and heels. Work with that.
In this universe, The Tim Burton exhibition runs until Oct 10 at ACMI, Melbourne.
Autobot Roulette: