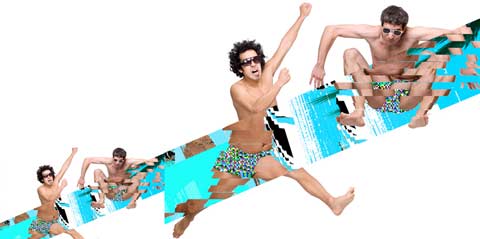 Electropical? Bleepy cumbia? Such hybrids are inevitable, given a generation raised on candied synthetic computer game sounds, and the speed at which localised bass variations now travel from shore to shore. They are also core chunks of the Meneo sound, alongside 'electro-gameboy-reggeaton', which describes their recent CD, Santa Nalga ( mastered @ Mad Decent ), as well as their recent EP, Papi. Rigo Pex makes the music, Raul Berrueco makes the video, both use gameboys to do it. Music, videos, nude performance photos and more : http://www.entter.com/meneo/istheshit.html
What's your quick and easy definition of 'reggaeton' ?
Rigo: Old School reggaeton= booty marathon with ass sweat dripping down your ankles. Current reggaeton= boring ego rap, with some exceptions to both.
Raul: Atun Con Pan!!!! Yeah… it's kind of a joke 'cause the rhythm sounds like saying in Spanish 'atun con pan, atun con pan' which literally means: tuna sandwich.
I am gathering your happy blend with many other styles, which of these are you enjoying a lot at the moment?
Raul: Gabba Lounge, nah kidding… we both love the new electronic cumbia made by artists like Uproot Andy and Sonido del Principe
Rigo: Yep, all that comes out from the Zizek and Bersa labels…also dubstep never stops to amaze me.
How does the Gameboy fit into your musical processes?
Rigo: I use LSDJ, a gameboy sequencer made by Johan Kotlinsky.. It's actually a tracker. I love the way you can alter the values that define the sounds to come up with noises that you never heard before, digital rawness.
What kinds of tools and techniques do you use to get that chunky retro graphic style?
Raul: At the beginning I go through a lo-tech process where I use applications designed by freaky programmers without girlfriends. I'm talking about ROM hacking and prehistoric hardware/software emulators, but I also use the pencil tool to draw pixel by pixel sometimes. When I put all this material together I use more conventional languages like Action Script while wearing my cool designer specs.
In what ways do you collaborate / build performances / audiovisual sync / themes?
Raul: we are into creative freedom, so mostly we don't talk about doing this or that, we both do our own stuff with almost no feedback and then show it 'till we're on stage…like some Dadaists did back in the day. In that way, we keep the surprise even to ourselves and focus more on feeling than acting. When we let go, things flow depending on the stage, public and energy.
Rigo: Then there's the part of capturing what happens on stage and communicating it through pics, blogs and overall media management, which is truly an important part where we really work as a military team.
Nakedness seems to be a visual trademark too, care to explain some more?
Raul: we usually do it if we feel good on stage, so if the sound and visual equipments are working all right, then they get a technical seal of approval… MENEO √.
Rigo: It also means that we can safely climb up to the stage roof and then jump into the speakers while the crowd is licking each other's sweat to a 280 bpms backward version of popcorn.
Santa Nalga 'was mastered by DJA at Mad Decent..' What were you happy with about that album, and what differences are there coming up in your next release _Bitnik?
Rigo: Santa Nalga was pretty much done in 2006, when reggaeton and 8bit was still something whacky for me, but since it was the first album it took some time to surface. Diplo liked us and pointed us to DJA, who was great for achieving that bouncy epileptic feeling we like. The soon to release BITNIK album has more of a band sound an less club breaks, since it's mostly all 8bit coming from the game boys sound that shred more than a million distorted guitars and their marshalls put together.
Your thoughts on the wii, iphone and other portable competitors to the Gameboy?
Raul: In 20 years will say "wow, we were really into waving a stick in the air, like it was a tennis racquet…hahah!
Rigo: there are no competitors to the gameboy… no portable game will stick around for more than 8 years these days… and even if technology didn't changed so fast, it would be hard to achieve such a strong graphic and audio personality: the gameboy chip limits were it's advantages.
What would be your ideal gig, and who else would be playing at it?
Rigo: Meneo playing on the greek coliseum with John Bonham on drums, the bass player from Primus, Milli Vanilli as choir…
Raul: and a 3d screen so everybody could wear those amazing 3d glasses!!!
Autobot Roulette: