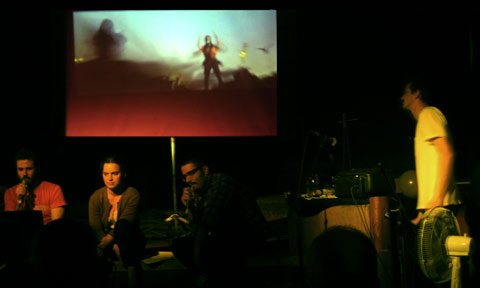 Live overdubbed cinema depends to some extent on the films being used, and their ripeness for satire. Hard to go wrong then, with the cartoon-like post-apocalyptic worlds of the Mad Max trilogy, currently being pulled part at the Melbourne Comedy Festival, hot on the heels of it's Sydney roasting.
The Dub Team
Writers and directors : Zoe Coombs Marr, Eddie Sharp.
Live Foley Sound Effects : Lil O'Neil and Blaine Cooper
Whenever Max spoke onscreen : Eytan Messiah
Whenever a female spoke on screen ( eg Tina Turner ) : Zoe Coombs Marr
Whenever anyone else spoke onscreen : Eddie Sharp ( including many accent gear-changes )
Previous Credits : The Willy Wonka Chocolate Factory Remix
And So..
Wander into Bar Open, Brunswick st Fitzroy before April 26, drift upstairs into that weird carpetted split-room that usually hosts clusters of experimental musicians, to discover a vaguely cinematic setting. Up-high, a screen to display an edited highlights package of the Mad Max trilogy, which will showcase over the hour, various re-composited scenes, super-imposed characters, various pop cultural inserts and a grab bag of editing tricks ( eg a wounded Mel Gibson crawling along the road, re-edited to suggest a dance sequence ). While nowhere near Soda Jerk in scale ( see their gargantuan remix efforts ), there's still a considerable amount of work involved here, in retwisting the various Mad Max threads to suit the remaker's new premise : Maxas a5 year old, dreams of being a dancer, and one day being accepted into Tina Turner's Bartertown Dance Academy ( aka the thunderdome gladiator to the death set of the trilogy's final chapter ).
Underneath the screen @ Bar Open, sit 3 microphone holding characters, faces lit by the tv monitor they take their cues from. And to their side, a pair of foley artists stand amidst a junkyard of soundmaking debris ( a lettuce to punch for fight scenes, a toy car with toy siren, various instruments, bells, gongs, a vacuum cleaner tube to emulate a V8 muffler, paper to rustle etc etc ). The edits flow thick and fast, leaping from film to film, all sense of the original film's chronology dismissed in the servicing of the new narrative. And to their credit, the journey of Max to the dance academy mostly flows well, despite the consistent leaping between different eras of Max's life ( y'know – before and after some unthinkable big catastrophe like an economic meltdown / global market collapse ).
The new lines being delivered live, to suit the on-screen edits, are for the most part hilarious and the obvious enjoyment in the faces of the microphone wielding folk on stage, adds nicely to the show. The glee with which the foley artists mangle their vegetables and 'molest their balloons' doesn't hurt either. And the new script they've crafted is quite playful, characters shifting through quite a range of accents, scenarios and surreal possibilities ( time travelling cops, playing with the age of Max, and gay bdsm and feral raver parodies which'd seem almost inevitable ), and pockets of improvisation ( including many references to Mel Gibson's recent divorce announcements ). And yet, the cult status and over the top of absurdity of the films themselves, clearly evident in the assorted cinematography presented, leave the remix feeling 'not quite there'. An awesome first draft maybe, and very enjoyable, but needing to sharpen it's claws somewhat before properly savaging that worthy flesh.
Update : Mad Max, the 2005 breakbeat remix, via toby *spark in the comments.
Autobot Roulette: