Audiomulch ( Built in Melbourne! ) the 'interactive music studio', has long held a near cult status amongst electronic music producers, and upgraded to 2.0 a few months ago ( including a native mac version for the first time ). For those desiring more lateral performance approaches than Ableton Live allows, but without the steep learning curves of Max / MSP, the newly tweaked Audiomulch 2.0 might be just the ticket.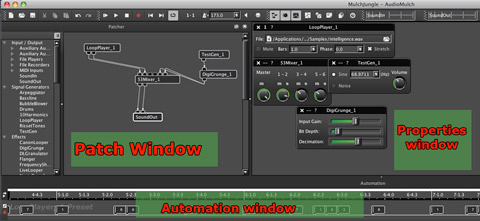 Vat Ist?
The AudioMulch elevator pitch : "Software for real-time sound synthesis, music composition and performance-oriented audio processing."
Translation: Easy to grasp ( even for a pixel-head ) modular software that focusses on the flow of an audio signal through a range of 'contraptions' which are 'patched' together in a window with patch cords from the input and output of various contraptions.
Contraptionism?
AudioMulch's signal processing modules ('Contraptions') include:
Signal Generators ( eg drum machine, bassline synth, loop player, arpeggiator etc )
Effects ( eg Reverb, flanger, delay line granulator, ring modulation, pulsar comb filter, 16 channel live sampling looper etc )
Filters ( eg Parametric EQ, resonant comb filter bank, granular filtering, resonant lowpass with pattern triggering etc )
Mixers ( Mono and stereo mixers and gain elements, crossfader, matrix with variable fade times. )
Your  VST  plugins ( AudioMulch supports VST audio effects plugins )
Humming Like A Bird
Key to the 'feel' of Audiomulch is the ease at setting up a chain of contraptions for processing your audio. The interface is deliberately kept simply to three areas : A 'Patch window' where contraptions can be chained together, a 'Properties' window where the details for each contrpation can be viewed or manipulated, and an 'Automation window', which allows you to define the way selected parameters change over time. Automation can be applied to the values of knobs, sliders (both single-value sliders and Range Sliders), check boxes and Contraption Presets.
eg start off with a 'sound out' contraption, connect a mixer to it, connect a loop player to one channel of the mixer, a bass synth to another, some effects to another and off you go.
Importantly, everything happens in real-time and all of your experiments with signal flow can be heard immediately without any drop in responsiveness. If in doubt of this, understand that this has been the choice of live performance software for every gig in the last 9 years, for that sweaty man who covers his laptop in gladwrap at gigs to avoid sweat pouring onto it ( aye, that'd be Girl Talk ).

Other Features
– MIDI – every knob and slider on the user interface can be controlled with a MIDI controller.
– multichannel input and output, with support for up to 256 channels ( great for live mixing, multichannel speaker arrays )
– Clickable built in help on every contraption ( great for beginners and advanced users alike )
– Metasurface – unique to the mulch, 'the Metasurface lets you blend smoothly between dozens of parameter settings on a two dimensional plane', Instead of having to turn one knob at a time with the mouse.' This can also be automated and looped.
Audiomulch Resources
audiomulch.com
vimeo.com/audiomulch
twitter.com/audiomulch
facebook.com/group.php?gid=5443009226
Requirements :
PC : Windows XP or Vista
Mac : OS x 10.4 or later, Intel processors only.
Cash : $US189 ( with generous unlimited 60 day evaluation option )
Verdict
This'll be the sweet spot for many producers and manglers of sound, easy to explore and yet offering incredibly lateral and complex audio manipulation and performance possibilities. Double thumbs up.
UPDATE : When asked about whether OSC support would be included at some point, Ross from Audiomulch wrote back :
"In terms of the roadmap OSC support fits into the "possible enhancements" which may (or may not) happen later in 2010 – basically it will depend on what users want the most when I get to that phase. I'm not convinced that OSC is useful without a mapping layer to translate OSC messages (ie a scripting language or some such) so I'm still trying to work out how that would fit in to AudioMulch."
Autobot Roulette: