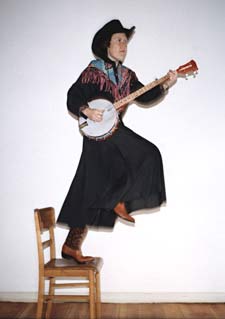 Equal parts banjoist, laptopper and pop cultural scream therapist, the warm whirlwinds of Kevin Blechdom have reached our shores thanks to the Dual Plover label. Brisbane, Sydney and soon Melbourne all under the spell of the tunesmith behind http://kevyb.com. ( @ The Corner Hotel, Thu Sep 7th )
>>How's the unlikely marriage of   max/msp software & the banjo working out for you?
Well, I don't use Max/MSP as much as I used to, I still use my computer a lot, mostly General MIDI (Quicktime) and Logic to write songs, and then a traditional recording studio to record them. I like the contrast of the software world and the REAL instrument world. Keeps the future in check with the past.
>>How has max / msp changed your perceptions of sound?
It definitely brought me closer to the physics of music. Sine waves and signal paths… It's a fun way to get to the basics of sound and then build back up again… I like the new Jitter software as well. It's fun animating in real time. There is something about a pure sine wave really loud that makes me extremely happy.
>>And of music?
I really go back and forth in terms of what I'm focusing on. A few years ago I was really obsessing with software and weird sounds and weird ways to put the sounds together, but the past two years, I've been caught up in chord progressions and song structure and lyrics… And I like spending time in both ways, but then taking what I learn from one world and bringing it to the other… So when I start programming again, I want to build software that focuses
more on chords and song stuctures and less on sounds and sequencing… just like a different magnification level on the microscope… keeep changing the scope and seeing which patterns are similar and which ones are different. So much in music is about waves, about periods of time… from frequency to rhythm to phrase to chorus to song to album to career, it's all just waves, and I like trying to mix these different levels together as much as I can while still being able to perceive it…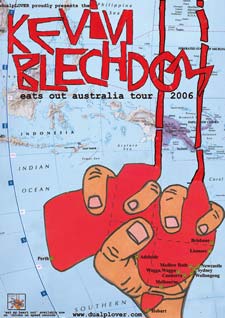 >>What are the limitations / benefits of playing solo versus the band environment?
Playing in a band is a full on relationship… I benefit from playing solo by maintaining the creative control, and being able to afford to travel and play more shows. Adding travel for one more person and sharing the fee cuts money in half, and more people it gets cut even more. I don't know how any bands survive like this… losing so much money in the beginning.
As for the bad parts of being a solo artist: when I work with others it's easier for me to believe in the material more whole-heartedly. For instance with my solo stuff, sometimes I do the typical thing of doubting myself, etc… but with other people somehow it's much easier for me to believe in myself if I'm working with someone. And of course, when you work with people ideas can bounce back and forth and really grow, there's more outside influences to pull from. But then again, it can be hard to maintain and nurture creative connections with all the stresses of the music world mixed with exhausting traveling circumstances…
>>Who have you really enjoyed collaborating with?
My brother Lumberob was my first collaborator, and we still work together. I used to write the music and he would write the words, or we would write songs together and then fight over who wrote them later, both wrongly remembering that we had written them alone. He's been a huge inspiration, and always gives good critiques – he understands what I'm trying to do unlike anyone else. I toured with Jad Fair in 1999-2000 and he got me singing, before that I was too shy, but he'd ask me to sing with him, and it just opened up a lot of performance possibilities, also a huge influence. Working with Blevin Blectum was super fun, because we were exploring music worlds we'd never heard before, and we would always end up making music we didnt expect to make, and it was great to be a "girl" band, because you can just tell the rest of the world to fuck off and do your own thing. Other people I've worked with who were awesome: kid606, jamie lidell, fred frith, mocky, heidi mortenson, ad hawk, max tundra, taylor savvy, planningtorock, phon.o, evans hankey, andre vida, eugene chadbourne, lucile desamory, the organlady, my robot friend… I'm sure I'm leaving some out… hmmmm… I really like collaborating…
>>Australian song most embedded in your subconscious?
"I come from the land down under" or kylie minogue "can't get you out of my head" or Olivia "Hopelessly devoted to you" or the Kate Bush song about Australia (I know she's not Australian) – – – > POP CULTURE DID IT
>>Donning your directors hat, what'd happen in Kevin Blechdom : the Musical?
I made a musical on the last record "Eat My Heart Out" called "Countdown to Nothing" – a surrealist auto-biographical self-help musical… that's where I've left off. I've been working on some new musicals, the last one we did was "the Cosmic Baby" about the first baby born in outer-space. I don't know what I would do if it were really about me, I think I need to live a little more to clarify the themes…
>>Can you tell us more about your upcoming duet with David Hasselhoff?
You can't keep anything a secret these days… Well, we both really like power ballads, so we just get two mics and sing our hearts out! I just look forward to the sweaty hugs at the end of the song!
>>What do u..
Whatever you want!
(Questions cut off at the end of an email never deter an open minded, banjo wielding interviewee~! – jp )
Autobot Roulette: