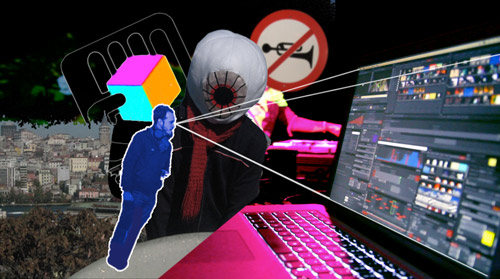 Skynoise.net is the web-home of Jean Poole*. I'm particularly interested in real-time video, and the relationship between sound and image, especially in a performance context. Lately this has included an interest in projection mapping, and multi-screen projections.
NOW : I freelance from a Brunswick studio (Melbourne, Australia) and work on a range of video and audiovisual performances / productions / projections.
( Example video projects: concert visuals for Hermitude, Live Video for Gotye, projections for MONA festivals, Music videos for TZU, Congo Tardis and Audego. )
Available for video-clip direction / production / editing / animation / live video / projection mapping / DSLR camera work / consultation etc.
Freelance enquiries welcomed:
sean .. at .. skynoise.net
THEN : I've performed and produced video material as 'Jean Poole' for various events, artists and festivals over the last decade, including gigs in most Australian capital cities as well as Istanbul, Barcelona, Berlin, Los Angeles, Porto, Rome, Jakarta and many cities in Mexico. I've spent a few years lecturing and tutoring digital media @ RMIT, where I maintain a couple of blogs about online media, and I've tutored virtually at Swinburne Uni. I write for other magazines and websites occasionally, and wrote ten years worth of weekly technology columns for the now defunct 3D World. I founded and directed the annual Electrofringe festival in Newcastle. (And back in time…)
[[*Jean Poole is a pen-name and video performance name, imagined by a good friend as a French spy character in 'some kind of biotech espionage movie'. I asked to use it, and it stuck. My birth name ='Sean Healy'.]]