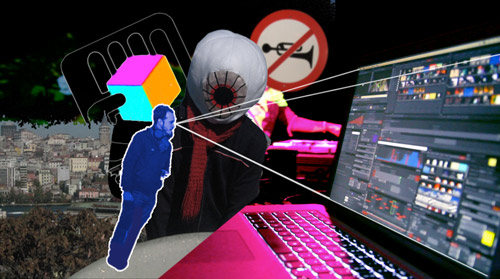 Skynoise.net is the web-home of Jean Poole*. I'm particularly interested in real-time video, and the relationship between sound and image, especially in a performance context. Lately this has included an interest in projection mapping, and multi-screen projections.
NOW : I freelance from a Brunswick studio (Melbourne, Australia) and work on a range of video and audiovisual performances / productions / projections.
( Example video projects: Live Video for Gotye. Music videos for TZU, Congo Tardis and Audego. )
Available for video-clip direction / production / editing / animation / live video / projection mapping / DSLR camera work / consultation etc.
Freelance enquiries welcomed:
sean .. at .. skynoise.net
THEN : I've performed and produced video material as 'Jean Poole' for various events, artists and festivals over the last decade, including gigs in most Australian capital cities, a residency in Istanbul, and gigs in Barcelona, Berlin, Portugal, Rome and Jakarta. I've spent a few years lecturing and tutoring digital media @ RMIT, where I maintain a couple of blogs about online media, and I've tutored virtually at Swinburne Uni. I write for other magazines and websites occasionally, and wrote ten years worth of weekly technology columns for the now defunct 3D World. I founded and directed the annual Electrofringe festival in Newcastle.
ELSEWHERE:  Vimeo / Youtube / Flickr / twitter: @jean_poole / Delicious bookmarks / octapod.org/jeanpoole.
[[*Jean Poole is a pen-name and video performance name, imagined by a good friend as a French spy character in 'some kind of biotech espionage movie'. I asked to use it, and it stuck. My birth name ='Sean Healy'.]]