Supercharging that whole laptop as portable TV station idea – Boinx TV.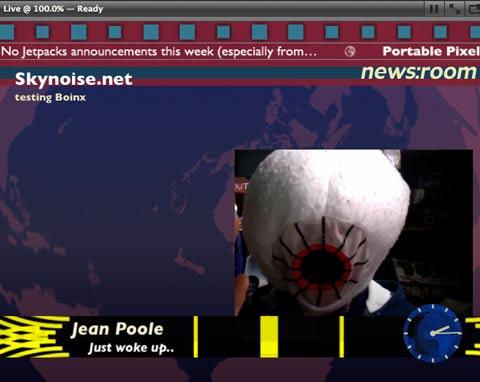 Vat Ist?
Video mixing software (mac only) set up for easy, intuitive real-time control over live cameras, recorded clips, slides, infographics, text and capable of streaming live as it happens.
The BoinxTV Interface
There's almost nothing within BoinxTV that can't be done with VJ software – with a lot of customisation and editing. The value of BoinxTV is that a lot of functions very useful for live video presentations, have been compiled thoughtfully into an easy to use interface. New features are selected easily and added as layers to the central interface component. Editing and refining for each layer is done in the left side panel, and the right panel shows the master output. Selecting between and triggering layers and events ( eg switching to a new camera, adding an infographic, doing a cross fade to a net based camera etc ) can be done onscreen, with user keyboard shortcuts, a midi controller or via an iPhone app. It's a fast and efficient system and would greatly simplify the workflow for making video presentations, tutorials, podcasts or framing live event broadcasts.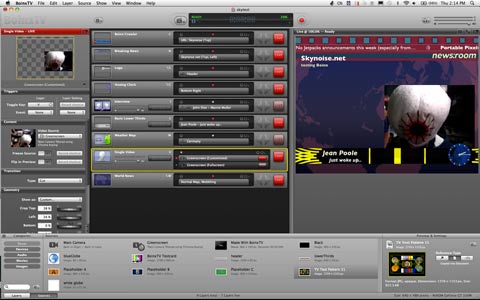 Features
Aside from the basics (implemented well) such as video switching, camera switching, scaling and adjusting image quality, inserting graphics and text, Boinx also enables the use of high-grade AXIS network cameras, multiple cameras, the easy inclusion of video skype calls from others, integration of RSS feeds for ticker tape scrolls, as well as twitter feeds (allowing comments from viewers), drawing on screen and decent chroma keying (for an easy newsdesk feel or for the use of virtual backdrops). Users can also create their own custom layers using Apple's Quartz Composer software.
One of it's best features is the capacity to bundle all of this up and send all the final master out live online – although this isn't as simple to access as the rest of the features and will hopefully get integrated into a future version. To stream live requires installation of further software ((either GrabberRaster($) or Camtwist (free)), which makes the Boinx signal compatible for the likes of streaming software such as quicktime broadcaster, ustream, stickam and justin.tv.
Bonus points: Using Syphon, Boinx can record real-time HD output from VJ software running on the same laptop (via @fALk_g in Berlin)
Requirements
Intel Multicore CPU based Mac with discrete graphics (MacBook Pro's starting late 2007), Mac OS X Leopard (10.5.8) or later. QT 7.66 or later. Webcam or professional video camera with Firewire, SDI or HDMI.
And $49 for Home version, $499 for Full version. (See : http://www.boinx.com/boinxtv/home/compare)
Verdict:
The Home version will probably suit most people's needs, and is a remarkably featured piece of software, which can greatly simplify the production of video presentations, video podcasts, screencasts, and tutorials. It's also a very easy and convenient way to add a layer of professional depth to any live net broadcasts.
Autobot Roulette: