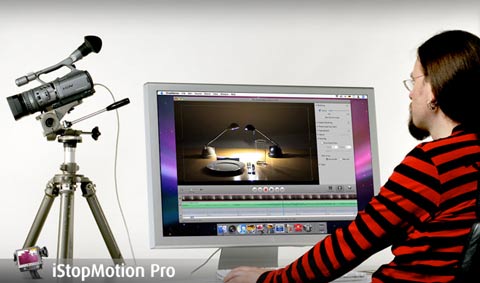 Fruit and vegetable dance choreography ( or claymation zombie wars ) just got easier with version 2.5 of iStop motion. 
Vat Ist?
Stop motion ( or stop action ) animation creates the illusion of movement by photographing objects in new positions for every frame. iStopmotion is software dedicated to streamlining that process as much as possible, offering a range of previews, adjustments and relevant effects for monitoring a camera connected to your computer and ensuring accurate controls over the movement of your objects.
Features
While there are for more powerful (and expensive) animation software packages available, the beauty of iStopmotion is in it's dedicated focus, and the feature set is tailored and trimmed to specifically suit the needs of stop motion animators, avoiding other animation complexities. Below, some of the ways stop motion life becomes easier:
– Image capture adjustments ( flip or rotate image / colour correction and presets / use of overlays and grids for guidance ).
( Note – in terms of image capture, most Canon DSLR cameras are no longer supported in Mac OS X Snow Leopard 10.6.5 and 10.6.6. This is a result of Apple's dropping of support for those cameras though, not a fault of iStopmotion itself, but hopefully it's something that will be resolved soon. )
– Onion skinning ( overlays of each frame to allow understanding of how a sequence of movements will look )
– built-in chroma ( or green / blue ) screening
– Custom foregrounds and backgrounds can easily be inserted
– No in-built painting / editing of frames, but it does support easy transferral of frames to Photoshop for that purpose, and then adjusts the frame to suit the new edits.
– Support for using a soundtrack and/or other layers of video as animation guidance.
– Support for the Apple remote control, to capture images from your animation work-table.
– Support for multiple cameras at once
– Integration with Final Cut Pro
– Tilt Shift effect – for applying that miniature real world look.
– Time Lapse capture – create time based effects by capturing frames at specified gaps of time.
And cutely, there's an option for printing animation sequences as a Flip Book.
Requirements
OS X ( it's mac only software ), Snow Leopard recommended, but earlier versions still available for use on earlier systems.
Cash: $49 for home version, $99 for Express version and $499 for Pro version ( Major differences are the maximum resolution size, and integration with FCP. Free demo available.
Verdict
No, it's not After Effects, but for stopmotion enthusiasts, this is a great way to streamline and focus animations.
Autobot Roulette: