Keywords: Neal Stephenson, Julian Assange, MC Hugo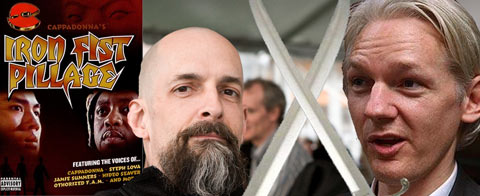 Neal Stephenson's Cryptonomicon ( see also: Snow Crash, The Diamond age and The Baroque Cycle ) is more than a decade old, but its themes of information security and encryption ( wrapped up in a swashbuckling adventure ) are particularly resonant this week, with the escalation of activity around wikileaks. The latest release of documents by wikileaks, dubbed 'cablegate', have Canadian politicans calling for the assassination of Wiki-leader Julian Assange, have Sarah Palin crying 'treason' (Julian isn't actually a citizen of the United States), had U.S. politicians pressure Amazon into removing it from their hosting ( "If Amazon are so uncomfortable with the first amendment, they should get out of the business of selling books."@wikileaks on twitter ), and they've provoked endless column inches in the world's biggest newspapers and magazines dissecting the ramifications of the releases, as well as the philosophies, motivations and early writings of Assange.
Swordfighting
Anyways, back to the clashing of swords – and also in the historical fiction vein, Neal has been developing Mongoliad, an online experimental fiction project, which seems to have spawned from a bit of medieval sword fighting research slashed about with a bunch of his Seattle coder and writer and friends (including Greg Bear, another award winning sci-fi author). And so – an online serial novel, delivered to subscribers over the web and via iOS, android and kindle, with a strong emphasis on reader participation.
"Up until now novels have been defined by the technology of the printing press, and we don't have to use that definition anymore unless it suits us. Some of the things that show up here will be chapters of the novel, some will be character portraits, some will be background articles about topics raised by the progress of the narrative, some will be maps."
Julian Assange HipHop
Like an Aussie hiphop version of Auto-Tune the news, The Rap News uses the form of musical news broadcast to dissect and analyse current affairs. The brainchild of MC Hugo and editor / director Giordano Nanni, and made in a Melbourne bedroom studio, it's impressively choreographed ( lots of different characters / costumes / accents / news graphics ) and manages to pack a dense analytical punch. Their video on wikileaks gained this tweet from wikileaks in response: "Hilarious Wikileaps rap gets it right. Is comedy the only honest commentary?" See for yourself.
PS. If lured in by swordfighting rap, hoping for new Wu-Tang hotel sheet shredding gossip, allow me to recommend instead, Iron Fist Pillage – a kungfu feature film with overdubbed vocals from the Wu crew ( and beats during the fight scenes).
Autobot Roulette: