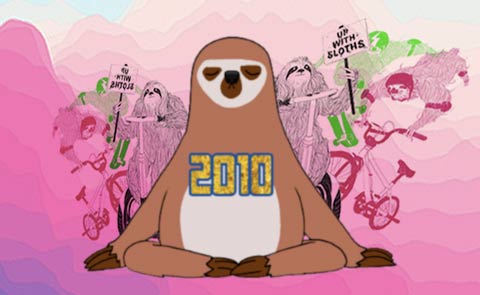 Slothdom has never looked so good, or been so lazily achievable. Reduced emissions from schedules of slackness, being able to outsource our workloads to increasingly rad software, better health, wealth and good fortune: all this and more are bundled up in The Way Of The Sloth.
Sloth Emissions
Like the twentieth century cyclist t-shirt slogans : 'two wheels good, four wheels bad', sloths have a message for the moment, and it is this :
"Less is more." Or less is better, especially when it refers to expected global temperature rises this century. At the recent gathering of climate slash policy heads in Copenhagen, most preferred the idea of restricting that temperature rise to 2 degrees – which would still deliver a 50% chance of catastrophic climate events. Unsurprisingly, developing countries who would bear most of the brunt of this ( having coastal areas affected by rising sea levels, and densely populated areas that can't afford further food and water difficulties etc ), wanted a limit of 1.5 degrees. Neither target was agreed upon ( in part due to Chinese Wrestling techniques), but there were still some hopeful signs : significant initiatives and funds were set-up for large scale rainforest protection, there was agreement on the science and the need for action, and there's potentially a good foundation for the next climate meeting in Nov 2010 – which is being held in the sloth-friendly capital of Mexico City. Hammocks, siestas, cumbia : where better to sign an agreement for slowing the rate of emissions?
(Sloth shout-out to Melbourne's Cumbia Cosmonauts who are on a roll. )

Sloth Software
Sure, military superpowers can build giant hi-tech infrastructure and send pilot-less drones spying over borders. But why bother with the work of competing with that, when there's hashish in the hills to be had, it's too hot to move, and as the Wall Street Journal reports:
"Shiite fighters in Iraq used software programs such as SkyGrabber –available for as little as $25.95 on the Internet — to regularly capture drone video feeds.. "
The even lazier militants in the desert of course, would likely bypass shopping for such software and just grab the relevant torrent file from Pirate Bay ( no, really. Hat tip to Coburg's military surveillance connoiseur, Francis Bear ).
And maybe when the sun sets a little and it's time for some moderate exercise, something like this iphone controlled helicopter might come in handy. ( See the copter's camera view on your screen, tilt to steer. )

Sloth Visions
Both budding sloth cinephiles and ascending sloth auteurs have much to be happy about. For those who like to watch, the continued splintering of the mainstream provides much of merit. District 9 and the ongoing Wholphin DVD compilations were amongst my favourites in the summer haze, along with an abundance of bookmarked shorts bookmarked online :
vimeo.com/jeanpoole
youtube.com/jeanpoole
delicious.com/jeanpoole/video
For the sloth-maker, it's an interesting time. After 100 years of cinema, the cinema system is needing to reinvent, and creative and distribution opportunities abound. Who knows what we'll look back on in fifty years time, who knows which changes with visual storytelling and exploration will seem significant. In the meantime, ongoing visual software developments continue to excite (documented well at createdigitalmotion.com), as does crowdsourcing ( hello kickstarter.com ). Perhaps it's those that creatively leverage these everyday network technologies to create in ways that haven't been possible until now ( have you seen the sour webcam video yet? ), that will seem like signposts in years to come. At any rate, fun ahead. And shout out to the the animated webisoders over at http://slothvision.com ( & bonus sloth / major lazer remix).
Autobot Roulette: