Like clockwork, the arrival of winter in Melbourne brings with it a range of depraved and delightful animations on the big screen, this year's regional focus being on the tick-tock friendly Switzerland. Aside from buckets of Swisstacular, we also gets 6 or 7 compilations worth within the 'International Panorama' section, Australian animations, 'Late night Bizarre', a digital selection and a puppet animation section, and two particularly attractive compilations : Fears of the Dark and visual music.
Visual Music Marathon
These are the culled highlights from a festival held in and curated by Jean Detheux (in Boston 2007) . Which is to say fans of Len Lye's marvellously freestyling hand painted and scratch films, fans of abstract generative software visualisations and those who enjoy intensely integrated audio and video will be filling the seats at these sessions, so get in while u can ( tickets @ miaf.net )
Semiconductor – a UK duo to be filed under the category ( amongst others ) of visualists who write custom software to provide for their pixel needs, offer one of the standout selections, the end result of this particular coding process, being a stunning kind of hyper-animated handdrawn 3D origami beast, that gets mercilessly tweaked and prodded by industrial machines with faulty electrics. Elsewhere can be found muchos rotoscoped crazy drawing per frame madness, visualisation of throat singing.. spooky xylophones represented by organic decaying dancing squares, industrial drones given a suitably flickering and textured visualisation and Runa's Spell – a gorgeous play with abstract organic shapes, mostly restrained colour palettes and blurry shapes that emerge from that long, darkened hallway of your David Lynch nightmares. Turns out to be a hallway leading to a New Zealand dairy farm, or where-ever it is that people make relaxy super dubbed out bass chai tent music these days. It gets prettier in other words. Both a strength and occasional weakness when it veers to more well known visual paths. Plenty more visual abstraction to follow, including Mugenkei ( also worth mentioning because the imagery is curator Jean Detheux's response to Willfried Jentsch's soundscape ).
Screening : Jun 20, 8pm, ACMI. Introduced by Jean Detheux.
Fears of The Dark
( fearsofthedark-themovie.com + celluloid-dreams.com )
Comic books tend to dismissed in the wider cultural sphere ( hence the popularity for comic artists to reframe them as 'graphic novels' ) , but an animation festival is one place they can crawl out from under the bed safely, ready to pollute the minds of the innocent. This feature length compilation draws together Blutch, Marie Caillou, Richard McGuire and a host of other gifted storytellers I hadn't heard of, but will be keeping an eye out for now, and an artist destined for a compilation based on fear : Charles Burns.
The Burns piece is every bit as disturbing, engrossing and under the skin as fans of his Black Hole comics ( soon to be made into a feature!! ) would be hoping for within a Burns animation. Who knows what kind of erotic weird biology experiences inform or inspire the Burns imagination, but he sure keeps fanning the flames within the deep woods of outer suburban North America, a place where sexualised insects and aliens are prospering well, transmitting themselves through whatever human vessels they can find. It's a credit to the compilation that the rest of it holds up so well to this piece. Full list @ miaf.net ( Screening : Jun 19, 8.45pm, Jun 21, 7.45pm, ACMI ) Recommendo.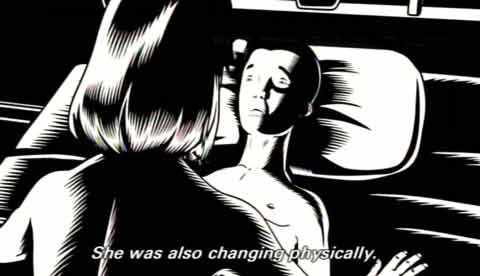 Autobot Roulette: