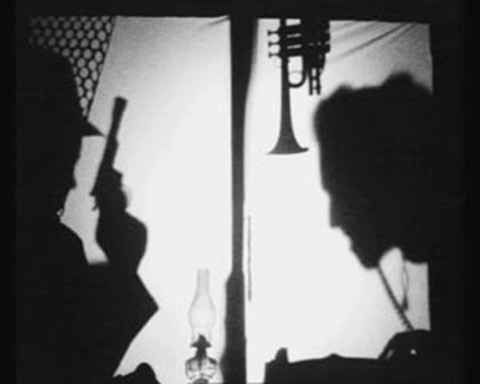 Homegrown digital animation is becoming easier and easier to implement – from using flash to create Southpark style cut-out animation, through to the home computer's growing range of image manipulation & VJ tools. See for yourself at the showcase of computer assisted animations within the Melbourne International Animation Festival (Jun 24-29 ) ( later repeated in Sydney). Or tear up the screen, throw out the traditional rule book, and animate some of your own ideas – like Lindsay Cox, who with Victor Holder, co-directed 'S-Crash' – an Australian hi-light of the M.I.A.F.:
Your animation in a nutshell, Lindsay ?
An ambitious DJ plays loud beats to the annoyance of his irritable neighbors : let the battles commence – the DJ uses sampling technology to mix his neighbours complaints into an ever louder and aggressive soundtrack. Co-directors – Lindsay Cox & Victor Holder. Sound by Marco Biasion, Lindsay & Victor.
What processes did you go through to make it?
S-crash began as a white gloves entry – meaning it was planned, and shot in one weekend. That deadline forced us to think of ways to convey a story using the simplest and quickest of animation techniques. Using 16mm and Black & White reversal film with an intervalometer advancing the frame every 2 seconds we were able to improvise in very slow motion much of the action. We'd stop the camera often to talk of the next section but many times we'd talk about what was happening as we did it. Using our pixillated silhouettes allowed for a margin of error also – although we had no monitor we'd look often look sideways to make sure the image was clear enough. After telecine transfer (thanks Iloura!) the film was tailor cut for the Berlin Short Film festival section called '3 minute quickies' to the theme of 'neighbors'. The sound was recorded and the images tweaked in After Effects to roughly fit the tracks. Foley was quickly added. Total production time was no more than 5 days. The name S-crash came via co-director Victor Holder, who suggested 'Scratch' but his Venezuelan accent made it sound more like 's-crash'. The distorted name suits the remix idea so it stuck. It was also 4am at the time.
Employment & the animator – do they mix well?
There are so many big players out there yet some people fall between the cracks. I mean there are many talented people out there working other jobs because they don't fit the commercial profile. It's a tough call to keep on at it.
What animation software interests you ?
I mainly use After Effects, Photoshop and Illustrator. I find the control over physical time and space within After Effects quite amazing. It's a powerful tool that can help you beat TV at its own game.
Flash is lower down the list – I am not a 2D animator but it does have its uses for me (in conjunction with a million fonts). You can't beat zero render time.
3D CG is still a black cave/hole that sucks your life in for me. Its better suited to team production than the forms of animation I follow at present. However, having used 3d Max in the past I know something about CG and would like to adapt those skills to Maya in the future if a project involving it comes up.
Your ideal animation set-up?
A large studio space with drive in access, high ceilings, blackout curtains, pro lighting systems, a high end digital still camera, G4 laptop, fast PC, green screen, fast internet connection, fully equipped workshop with all tools. Lots of the friendly kindly animators and friends that live in Melbourne and a great kitchen and lounge area to do nothing but eat and talk about animation in.
What intrigues about your next animation project?
It's a puppet animation in which I will be using video assist for the first time (for a whole film) so I am expecting to learn so much more about stop motion animation as opposed to working 'blind'. That and the use of dynamic animatics knocked up in After effects may speed things up about one microsecond.
What advice would you give to somebody starting animation today?
Be aware that concepts and ideas are like gold in the often jaded 'industry' – don't give them away freely – my concept for a ultra short series for one Melbourne CG company is now past its 50th episode, without any credit.
The techniques used in animation production are many and varied and at times its easy to compare yourself unfavourably to 'experts' but content that makes people watch and react is what its all about. Follow what you love and the money will come.
S-Crash is being screened as part of the Melbourne International Animation Festival ('95 films from 24 countries, June 24?29 @ ACMI ) – and later at the Sydney equivalent. Other MIAF hi-lights include a Betty Boop retro, animated homages to painters, and a focus on Paul Driessen & Czech Republic animators.
Autobot Roulette: