Another round-up of visual treats. Some with fangs.
Recent Work From Soda Jerk
Following on from their epic, feature length, I mean really, epic, compositing job in Pixel Pirates II, Soda Jerk have made a couple of shorts that again transcend most mash-ups with their pro-level recompositing of characters into various scenes. 'Picnic at Wolf Creek' ( as you may guess ) combines a whole swagger of iconic Australian cinema ( guest stars : Mad Max, Steve Irwin, Russell Crowe, Ned Kelly, Lindy Chamberlain, the drag queens from Priscilla Queen of the Desert, Skippy the Bush kangaroo and a few high school girls at Hanging Rock. Some greatly combined scenes here. More details and pics at the Soda Jerk HQ.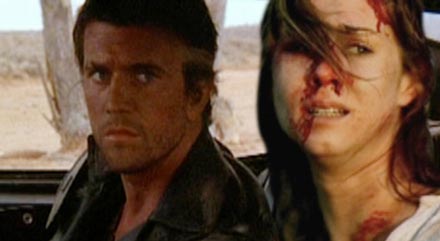 'Astro Black: A History of Hip-Hop [episode 1]' kicks off a hopefully long running series about the intergalactic origins of hip-hop turntablism. I haven't seen this one yet, but there was something about the way the blurb was batting it's eyelids at me:
"Set in the Bronx in the mid seventies, this video remix kicks off with the alien abduction of the three pioneers of the hip-hop "old skool": DJ Kool Herc, Grandmaster Flash and Afrika Baambattaa. Once on board the Mothership with Sun Ra and George Clinton, the three DJs are transported to Planet Rock where they are skilled in a secret alien technic – the scratch."
Tokyo Streets
via microcinema.com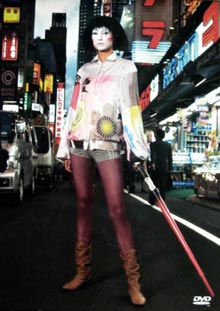 If the names Shibuya, Omote-Sando, Harajuku, Yoyogi, Shinjuku and Meguro light up neon-bells inside your head like some winning sequence in a Daft Punk poker machine, then it's feasible this disc from fashionshow.ch will provide some amusement, and or satisfaction, in your life. The premise holds potential – a snapshot of life on the streets in one of the largest, densest and most colourful cities in the world, and given Tokyo's range of crazy cosplay characters and weird-fashionites already well documented in the likes of the Fruits books / magazines, given the fact that well – it's Tok-(e)-YO! – one of the world's best examples of the future wedged firmly into the present, then surely, it'd be possible to edit together an exhilarating snapshot of super-sugoi critters wandering about in their natural terrain? Editing however, would suggest the makers had a range of decent footage to start off with, and some overarching threads / ideas or just flair for weaving this together. Unfortunately the DVD comes off as really flat – poorly shot ( not a sin in itself, but it doesn't help the disc ), and badly edited – extended sequences of drab audiences looking on meekly at amusingly half-assed street-performers, a few random camera wanders past colourful characters, some live bands on the street, dreary pan and tilts over up-market building facades, etc etc. There are a few nice sections, but it would've been vastly improved by being edited down to 5 or 10 minutes. Get your hands on the classy 'Tokyo Noise' feature length doco instead.
Ryuke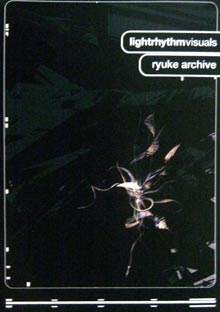 Also from Tokyo, and the latest release from VJ label Light Rhythm Visuals, Ryuke provides a collection of works by native Tokyo pixelists VJ Reel and K-Mixx, a whirlwind of 'experimental 3D animation and explorations of virtual space' – a description which admittedly makes me feel queasy straight away – possibly limiting the disc to being another collection of motion graphics for some information technology current affairs program, with a little science fiction thrown in for good measure. As it turns out – only some of the disc is like that, the rest is densely packed with visual ideas and it's nice to see Light Rhythm Visuals continue their tradition of including visual remixes on each disc, as well as keeping the discs region free and including quicktime clips ready for use within VJ software. The disc also loops without returning to the menu screen, savvily positioning the disc as a possibility for various venue owners or acknowledging that it can run continuously in the background occasionally provoking interest rather than needing to be watched all in one sitting. The stand out piece on the disc for me was the angle 2 remix by Kevlar of VJ Reel's "illmatic chopper" – it playfully extended VJ Reel's obsessive look at horizontal movements, adding plenty of innovative variations over time, used masks and black space fantastically, shifted to a tasteful 3D section ( ie – it wasn't doing some generic object deconstruction / reconstruction, or moving camera around some mechanical 3D object ) and managed to be both beautiful and visually surprising. It helped I guess that VJ Reel's original piece was quite strong, especially the nice overlayed silhouettes against the fast panning and chopped up horizontal movements.
Also worth a mention – the Ben Sheppee remix of K-mixx's "Beautiful destruction", taking the stock 3D disintegration to new places by nicely overlaying glitched masks and stripping back the palette to a less garish black, white and pink – simultaneously enhancing the effectiveness of various silhouettes blacking out portions of the screen. VJ Anyone's remix of VJ Reel's 'gravith' also has merit, with a wealth of fine edits and sophisticated compositing techniques on show – even exquisite in places, but the overall piece suffering by lapses into information age visual cliches and the addition of some unfortunate text that reeks of a transhuman bent that surely even sci-fi readers find hard to swallow today ( Advocating uploading of the human psyche to machines as a solution to global warming? C'mon … ). It's an accomplished piece despite these shortcomings, but could've been that much stronger.
Autobot Roulette: