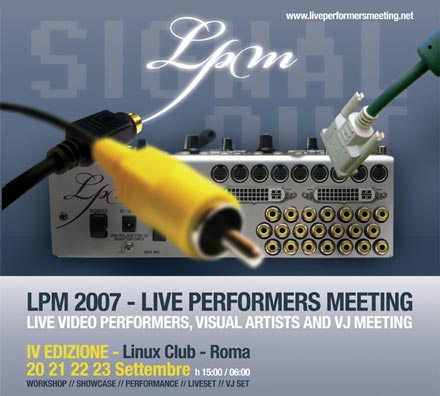 Italy hosts 190+ artists at the 'Live Performers Meeting', in Rome from Sep 20-23.
Am doing a live AV set with Synesthete( 1 x Mr.Todd Thille from Artificial Eyes ) midnight, sat 22nd. Will feature filmed fragments from recent Cappadocia adventures, Australian car-wrecks, animated squids, Japanese TV shows, sampled Turkish instruments and Artificial Eye's new software 3L ( Thrill – about to become *the* new benchmark for real-time 3D software ), all hopefully bundled into something vaguely compelling.
Other LPM bits worth checking out, by my hosts in Istanbul:
Artificialeyes.tv present Thrill [Turkey – Istanbul]
Workshop: A Thrill a Minute
Sat 22th17:30
Get the inside picture on this complex near-release openGL based OS X software.
Artificialeyes.tv present VMS
artificialeyes.tv present VMS [Turkey – Istanbul]
Workshop: VMS – Video Mirror Units
Sat 22th17:00
( VMS – motorised mirrors controlled by DMX, and ultimately by the 3L software that allow the projected image to move around the space… )
Drop a line if you'd like to meet up : )
Autobot Roulette: