Despite all the leaps and bounds of recent years, the search for a cheap and reliable live audiovisual sequencing set-up has become somewhat of a holy grail for aspiring AV-heads. Video tends to suck more machine juice than audio, and video software usually lags somewhat behind audio software advances. Still, 2006 has already brought quite a few promising advances, bundled below.
Back in the Day
As early as 1991, Emergency Broadcast Network were kicking the live AV and video album concepts. EBN co-founder Joshua Pearson is still editing pixels, and maintains an archive of EBN's better clips, and his more recent solo material.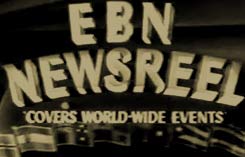 The EBN live version of 'Get down' is pretty fine, nicely juggling Harrison Ford, TV cop show footage, a screeching Mariah Carey and EBN running raucous on stage. And yes, the original EBN VideoSampler (mac) is still downloadable to play AV loops with. An abundance of playful software now exists, but is mostly limited in terms of it's scope for AV improvising. See Spanky's Sydney-made downloadable shockwave instruments from the late 90s, and the more recent Flash based Pianographique And yes, shout-outs to the 'Realtime-Mind-Music-Video-Re-De-Construction-Machine' that is Scrambled Hackz, surely linked to by everybody now, and which can make interactive music video sets based on analysing beatboxed sounds. Very cool, if somewhat limited in scope. And while advanced software like Max/MSP can let you build your own AV sequencing software, it is beyond where most artists want to take their coding fingers.
Audiovisual Hardware
Pioneer's DVJ-X1 DVD turntable helped bring DVD resolution, loopability and non-computer-crashness into the AV mix but still remains too expensive for most. More dangerously, it probably also helps the spread of mtv jukebox candy supplied by the likes of Hexstatic (when they play live in Australia ), or Eclectic Method (see video ). Why does the world *need* cleanly mixed music videos already on round the clock television rotation? Bringing some more noise, is the recent Numark AVM02 Audio/Video Mixer with effects, providing good hardware controls for audio and video in one mixer. Also recent by Numark, the tiny VJ01 Tabletop DVD/CD/MP3 Player which has a built in tilting preview monitor a well as pitch sliding and seamless looping. The Korg Kaptivator seems interesting, allowing up to 106 minutes of video to be mapped to 16 pads for triggering, and with a variety of effects, signal routing and live camera input etc, but is of course quite expensive also. Video gear is breeding yes, but as it lags behind with sequencing, inevitably folk be turning to audio sequencers and slaving their pixel gear to that.
Sequencing Video With Ableton Live
By no means, is the challenge to produce compelling live audiovisuals merely a technical one. The ability to sequence events however, definitely makes the job easier, and although video tools like AVdrum (audio video step sequencer and drum machine) and Flowmotion 2.8 ( mac & PC – now with trigger sequencing that can be atttached to any parameter ) do have some sequencing ability, they remain primitive in comparison to the flexibility of Ableton Live. Even AV pioneers Cold Cut are hooking up their VJAMM software with Ableton Live. Over at the vidvox software forums, Spark (UK) posted an excellent 'how to guide' for welding together Ableton Live's sound sequencing software with video software and midi hardware, to create a versatile beat-synched audiovisual set-up. Says Toby ( Spark ):
"I use Ableton Live as a sequencer for the whole show, triggering the audio and video alongside the hands-on mixing within Ableton and the vj app….. I am trying to create a show that is somewhere between a dj/vj set and cinema – a fusion of music, sound design and visuals. I'm more interested in motion graphics that create an audiovisual rhythm and imagery and soundscape in harmony than see-the-dog-hear-the-dog, but there's bits of that too."
Fresh meat on top? A new VST plugin which enables playing of video in Ableton Live, found via Quartonian. Vidvox, the makers of VDMX and Grid Pro have been busy on the sequencing front too. With a fresh new Grid Pro beta out ( which much better harnesses OS X and the graphics card rather than CPU), they're nearing release of a new VDMX beta. As resident coder Mr.Ray describes:
"You'll be able to set up a "timeline" that lets you basically score an entire performance, and give the performance by playing back the timeline (timeline as a sequencer), or you'll be able to put together a timeline like you would in a traditional non-linear editor, and render the timeline out to disk."
Which should be good news to any 'live cinema' fans – such as VJ Falk who has started a blog dedicated to a new 'live cinema project', or Timothy Jaeger whose quite excellent and 'live cinema' encouraging VJ Book is now available as a cheap PDF ( review coming soon).
Autobot Roulette: