Lev Manovich is brimming with ideas about 'new media' – he wrote the seminal 'Language of New Media' academic best-seller after all. But is the electronic arts emperor wearing no clothes? Let's take his latest DVD offering for a spin, 'Soft Cinema' – which aims to interrogate how software and databases might shape cinema in new ways ( www.softcinema.net).
The Language of New Media
A century after the introduction of cinema, Lev Manovich tried to make sense of the current blossoming of media technologies, trying to find their commonalities, their unique traits, and generally trying to 'articulate the actual prrocesses of digital creation' and theorise about what was actually 'new' about 'new media'. His rigorous dissection of various electronic art forms, and attempts to define underlying principles of 'new media' resulted in the book being alternately pitched as "the first textbook for the next generation of media makers", or as a book that is too obsessed with cinema to actually understand the possibilities of today's media. Or just plain dreary by those weary of the academy's need to categorise. It's influence is undeniable though. One of the central themes of the book is the database and the ways this allows information/content to be manipulated in new ways, an exploration now manifested in Lev's DVD and installation project.
Database Cinema?
"How can our new abilities to store vast amounts of data, to automatically classify, index, link, search and instantly retrieve it, lead to new kinds of narratives?" – Lev Manovich.
Given that search engines have become so integrated into sifting through the white noise and bureaucracy of the 21st century, inevitably somebody would want to cinematize our increasing use of the database to navigate media, to find out way in the world. Arguably this has been happening for some time already, with the use of non-linear editing on a computer to provide a more fluid capacity for editing. Lev is interested in deeper aspects of the information architecture than this, and with the DVD presents a series of 3 'films' – each seeking to interrogate a particular aesthetic territory related to the database, and each utilising clips of footage Lev himself shot on travels around the world. (Below an Eisenstein diagram showing early 20C editing ideas… )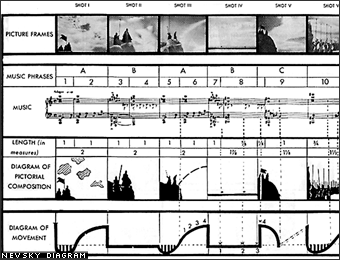 Texas
Using both a database of 425 video clips and a parallel music database created by composer George Lewis, Texas explores the relationships between clips and the capacity to allow software to edit by linking clips with similar parameters. Each video clip is described by 10 parameters ( eg perspective, brightness, camera motion etc ) and with custom software, the clips unfold in seemingly random combinations based on this. They also appear at different places on the screen, and usually at least 2 at a time, although in different sizes and places. Music from Dj Spooky & Scanner adds to the mix, and the combined effect of sound and cityscape visuals manages to convey a certain type of mood.
Mission To Earth
A loosely science fiction styled piece, this 'film' includes a database of motion graphics to complement the video database, which are juxtaposed alongside each other in a range of ways. 'Window size' and the number of windows showing video are constantly adjusted to supposedly suit the main character's feelings at different times. This has the closest 'feel' to a traditional film of the 3, a little more engaging by the continuity possible because of a central character appearing in many of the shots.
Absences
The most abstract of the 3 'films' uses algorithms to determine the editing, which delivers a montage of black and white cinematography, spitting out a range of urban and natural landscape film fragments ( up to 5 at a time on screen at once ). The soundtrack for this is derived from analysis of the screen-imagery, coder for the DVD and Soft Cinema software Andreas Kratky utilising his created tools to provide a continuous sequence of abstracted audiovisual rhythms.
And The Emperor's Clothes?
While this is a provocative stab at new cinematic terrain by a celebrated theorist, it remains a gently underwhelming viewing experience. It may work better in it's native installation spaces on larger screens, but it's not exactly rivetting viewing, despite the often hypnotising sections that can emerge from the databases. Moviegoers want storytelling of some form ( even abstract visual storytelling) , and gameplayers want interactivity and control of their environment. This DVD lies in the murky and somewhat unsatisying area somewhere in between.
Autobot Roulette: