Ingredients: Bangkok, a city of 10 million with equator-side climate and biodiversity. A dystopian biotech novel set in this city after oil has run out. Add Dental Tourism into the mix and stir lightly.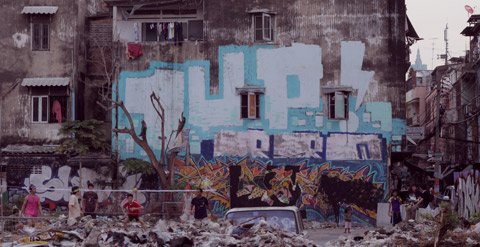 (Above, sunset Buka Ball near Bangkok's Siam district.)
That Novel
– is The Wind Up Girl by Paolo Bacigalupi, and it's quite an engaging ride, vividly portraying what a Thai metropolis would look like through a Mad Max filter. Street ingenuity and cultural traditions mix and match in uniquely Thai ways to deal with the problems of a post peak oil city suffering from biotech plagues. And the problems are many, including – heat (Bangkok is the world's hottest city according to the World Meteorological Organization), the threat of floods (from monsoons, rising ocean levels, and because the city is built on slowly sinking swamp land), and the need to feed (the novel offers a bleak future where biotech diseases have wiped out most of our biodiversity and provide a small number of disease resistant options to keep us from starving. Most of the book's conflict and drama centres around battles for control of the city's food chain). A cheery read then, when en route to Bangkok to have a dentist poke around in your mouth.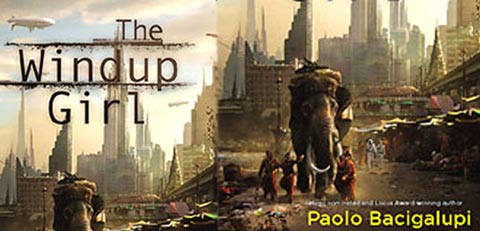 Those Teeth
True stories: dentists and surgeons in Bangkok have managed to cultivate a reputation and niche for medical tourism, offering high quality service at super competitive prices. It's a reputation probably owing in part, to the popularity of gender switching in Bangkok, where billboards show cowboy hat wearing doctors offering their sex change surgical specialties. A taxi driver claims the high degree of microsurgery specialty is from the toughness of Thai women, and severed organs having to be re-stitched onto cheating husbands. Whatever the reasons for the abundant dental infrastructure in Bangkok, it means their dentistry is cheap. A sufficiently mangled mouth in Melbourne, for example, could find it half as expensive to get teeth fixed in Bangkok – even with the price of airfare included.
Of course, to avoid that drowning, dystopian version of Bangkok, probably requires that people aren't flying halfway across the world to fix their ailments. According to carbonneutral.com, a return trip from Melbourne to Bangkok (16005kms) produces 1.58 tonnes of CO2, and the burden of this can be lifted by paying carbonneutral $24.81 to offset that CO2 in one of their renewable energy projects. Or just buy 20 toothbrushes and floss and give them to your friends.
Bonus Bangas: Sars Wars: Bangkok Zombie Crisis ( 2004 )
Bonus Bangas II: Comics made by a Bangkok artist, who also does a kind of spoken word with projected comic panels thing..
Bonus Bangas III: May Kaidee's Cooking School does a pretty rad half-day vegetarian Thai cooking course for cheap. And they have great cookbooks.
Bonus Bangas IV: Turkish Batwoman still eludes me, but while scouting for rooftops, ran into Thai Batgirl on the 23rd floor of a building that had no security on their elevators.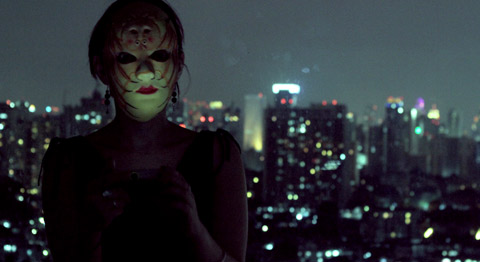 Autobot Roulette: