Some February eyeball snippets..



Sculpture
http://tapebox.co.uk
http://vimeo.com/sculpture
Dan Hayhurst: Music, Reuben Sutherland: Animation
"DIY music and animation duo, who use zoetrope record deck, tape loops, cassettes, samples, and lo-fi electronic noise, cross-fertilizing analogue and digital techniques to generate vivid sonic and visual collages."
Sculpture are one of my favourite discoveries of late. Notice the words 'zoetrope record deck' in their description? Those custom made picture discs ( just a sequence of images arranged around a vinyl disc and filmed from above ) definitely help define their aesthetic but there's much more going on than that. Glimpse a few of their animations and live performances to grasp some more.
Everything
http://vimeo.com/6364896
A vibrant array of visual creators constantly pump out material on vimeo.com, so even casual exploration of the site usually brings some rewards. It's especially nice though, to discover delights in clusters, masses of talented folk orbiting around one of vimeo's groups or channels. Such as the awesome compilation 'Everything', curated by Danny Jelinek, each episode tending to feature 5-6 snappy segments, sharp editing and humour, and sophisticated but whimsically used visual effects.
 
Op Art in Visual Chinatown


davidope.com
http://dvdp.tumblr.com
On the optical art front, albeit with a more contemporary feel, 'davidope' creates hypnotic looping animations, which he offers up as a series of tumblr gifs ( hosted at what he calls his 'visual chinatown'), or java apps / quicktime movs for those inclined. His recipe?
1. I create a simple animated 2d looped pattern in Flash or with Illustrator+Javascript.
2. Then I use them as a displacement/diffuse/alpha map for a static 3d object in 3dsmax.
3. Rendering it with Vray or Illustrate.
4. Finally converting it to GIF with Photoshop.
DJ Yoda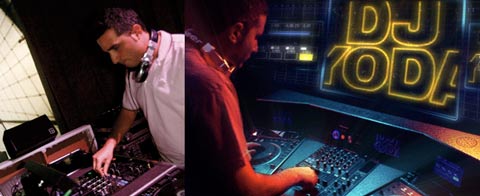 www.djyoda.co.uk/
youtube.com/user/djyodauk
Belated shout outs to DJ Yoda, who toured Australia in late December. Admittedly I was skeptical after glimpsing a set portion online a long time ago ( too obviously cut and paste in that mid-late 90s way, with little sampling subtlety in the choices or choreography), but for the sonic and visual heads in the audience alike(@ Falls festival) yoda 'ripped it', constantly weaving through pop culture grabs with fluid, sophisticated ease. This included a range of recently new worthy items as well as an extended encore of contemporary Australian TV.    
Apart from busily honing his live gigs, DJ Yoda also recently contributed to the DJ Hero game ( Playstation, XBox, Wii ), offering up two mixes for playing : Jackson 5's "I Want You Back" vs. Gang Starr's "Just to Get a Rep", and Little Richard's "Tutti Frutti" vs. Shlomo's "Beats". As an aside – has anyone ever used this? The game made a lot of splashes on release, but I haven't heard from a single user of it since, or even seen anyone pointing to an interesting video of it (or it's turntable controller ) in action. Meanwhile, 'Scratch, The Ultimate DJ', being developed by Bedlam games and delayed because of legal troubles, is now back on track – with tracks by Mixmaster Mike, Kid Koala, Gorillaz, Salt N pepa etc. Stay tuned.
Autobot Roulette: