Another disc full-o-mutant pixels hoofs over the horizon, this next galloper into town being the 'difficult second album' follow-up to the acclaimed Reline DVD compilation.
Reline 1 contained a fantastic spectrum of lo-fi to hi-fi visual explorations, noodlings and generally provocative work. The sequel, co-curated and produced by Scott Pagano & Phoenix Perry, focusses much more on the expensive end of that spectrum, it still manages to provide quite a diversity of approaches, in line with the goal of showcasing "artists engaged in the creation of new visual forms deriving from experimental techniques and the re-orientation of high-end production processes."
Clocking in with 64 minutes of abstract patterns and dense visual rhythms, black and white grains juxtaposed with saturated colours, and all manner of aesthetic invention, the disc veers from hypnotic to stroboscopic, turning a lounge room into something more akin to a nightclub or art gallery, than perhaps the party atmospherics provided by say a Resfest or music-video compilation. The niche being exploited here is a category blur of motion graphics, visual effects, sophisticated aesthetic manipulation and music video – at least where the audio and visual elements heavily interplay. The disc to that extent is an excellent collection of stunning visual experimentation, and those interested in any form of video manipulation will find much of it exquisite. Those same themes of visual play however, at times make the disc feel like a collection of clips in need of a stronger directorial hand – one which might better leverage the visual techniques in service of an overall idea, or overall momentum.
Highlights

e3 by Robert Seidel is a delicious hybrid of organic and inorganic, morphing and at times sharply mutating the soft curves of a 3 month gouache painting diary, into gorgeous screen pulses of mesmerising shapeshifting. The music by Michael Engelhardt of 4memusic in 5.1 surround sound matches the piece quite well. There's a hazy, mirage-like otherworldliness to this piece, the muted colours and dirty textural noise in constant ebb and flow.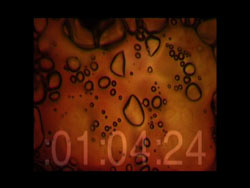 On first disc-viewing, Celluloid by Jude Greenaway of the Light Surgeons stood out for it's relative warmth amongst the array of highly technical approaches. Coastal super 8 footage layered and processed, with the usual frame burns and jitters almost expected with film, washing delicately over the screen as fuzz-tones gently flare the speakers. It wasn't until reading Jude's bio on the DVD that I realised the significance of the time counter displayed XL on screen, ticking down to the song's end, Jude describing how he wrote the track to commemorate the passing away of his grandmother.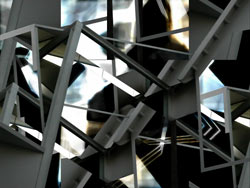 Should curators include their own work on a disc? In Scott Pagano's case it seems justified, his piece 'from brown to green', wonderfully visualising the intricate layered precision of a Twerk release on Mille Plateaux. The rhythmic architectural lines, and precision cut photography are reminiscent of the Designers Republic cityscape cut-outs for Warp records, but extend the concept with more layers of visual complexity, well considered transitions, and a graceful sense of pacing and editing.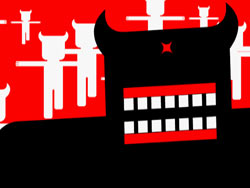 Motomichi, aka VJ Moto, matches the demented music of Otto Von Schirach delightfully with the limited palette of red, black and white 2d graphics, effortlessly managing continuous visual surprise with his reworking and remixing of shapes. Cute and brutal!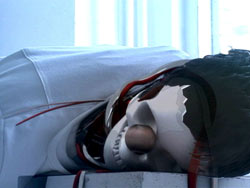 Tronic studio & Q department present a human-machine hybrid future-present, in the form of visualising an extension to the nervous system as a mangle-tangle of flowing cables… an idea executed very well a few years ago in a music video for a glitch artist whose name frustratingly escapes at time of writing ( drop a line if you can help re-direct the tip of my tongue ). Still done very well here though, if a little tantalisingly short.
Even shorter, and equally tantalising for it – is laser graffiti writer by Tenzin Wangchuck, with soundtrack by Venetian Snares, a buddhist exploration of rapid light-flared grafitti on an urban wall.
About Microcinema
Starting your very own DVD label can now be as simple as declaring on a website that your label exists, and providing links for ways to acquire your expanding catalogue. And if the explosion of video sites online is any indication, there is a growing appetite for video, even that of a weird and experimental nature, which could be exploited by budding DVD label entrepreneurs. The Microcinema label – which 'distributes moving image DVDs to specialty retail shops, museums and the online community', has managed to rise above many embryonic DVD labels, skimming much video cream to provide access to a vast, vast range ( check their online catalogue ) of experimental video discs such as this Reline compilation.
More DVD details @ www.reline.net
Autobot Roulette: