So far this year, the planet has gained 16 million people, 7 million new cars, and with what may give hope: 22 million new bicycles. Another number on the up, is the humble audiovisual DVD. Here's four of the finer beasties inter-tweaking image & sound.
Spaced Out


This compilation from Addictive TV practically jumps off the web-shelf, boasting the likes of Cold Cut and EBN amongst 26 tracks of NASA space footage remixing. All the music producers and visual artists were given access to the same pool of archive footage, and it's the diverse ways this earth & space imagery and sound have been milked, that give this DVD it's kind of ethereal charm. EBN's Brian Kane provides one of the best tracks, with his seasoned av-interplay providing a bit more of a hook than most of the other pieces. Overall though, the DVD is aimed as a chill-out and background style viewing experience, and for this it works really well, with endless compelling images and drifty music.
Mixmasters Series ( Episode 1 )


Also from the Addictive TV stable, is the Mixmasters Series which was compiled from the Uk's ITV1 series, and to be screened on SBS soon. While up to Episode 5 now, part one kicked it off with a range of DJ & VJ mixes which again, are aimed at chill-out and background style viewing. Something to put on at home at the end of the night. With six audiovisual mixes featuring twentysomething tracks, we veer through drum n' bass, house and ambient tones combined with visual delights in good moments and screensavery wallpaper at its lowpoints. Also includes a range of artist interviews.
See also : Addictive TV interview
Reline, a Video Artist DVD Compilation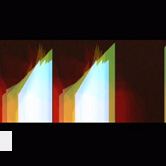 San Francisco based Reline, have compiled a diverse and edgy exploration of contemporary video-bleed. Mapping out a wild range of glitchy yet compelling video-art pieces, some clips celebrate abstraction, some include narration, and others ride the pop-clip angle – usually with a twist. Threading the pieces together though, is a certain mark of quality, of originality, innovation. Artist bios and a synopsis accompanies each piece on the DVD and gives an intriguing insight into the processes and technologies each artist explores. Given the experimental nature of this project and the data capacity of DVDs though, one might've expected this DVD to showcase some interactive pieces which stretched the capacity of DVD. As it stands, an excellent compilation though.
See also : Reline 2 Review
Lost Leader, by The Light Surgeons

Electrofringe 2002 with their stunningly crafted audiovisual set. Their multi-layered cinematics were more akin to graphic design mag pages writ large on the warehouse walls, milked to the beats when the on-screen action itself wasn't the source of music. This DVD compiles many of the pieces they used, as well as documenting their various installations, short films, music, photographs, motion graphics and includes a live performance to show what they can do when the whole crew attacks the screens and p.a., not just the two visitors to Oz last year. A glorious shiny disc, this one – and released through http://www.gasweb.jp who now have a backcatalogue of twenny-summit designery DVDs.
See also : Light Surgeons Interview
Autobot Roulette: