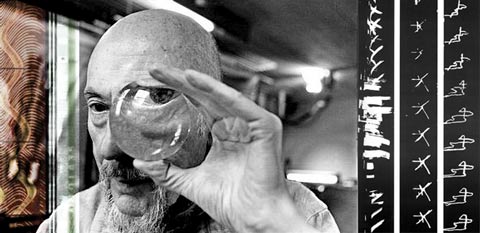 Open, until Oct 11, the current ACMI Len Lye exhibition is one of the best reasons to wander to Melbourne.
Let There Be Light
And there was light. Back in nineteen thirty-five. Which was when New Zealander Len Lye (1901 – 1980) produced the first 'direct film' screened to a general audience, a glowing example of a new genre of camera-less film making that saw artists directly painting onto film stock, making scratches, etchings, punching holes in it, burning it, gluing and taping objects onto it etc. His film, 'A Colour Box' was a wildly vibrant work, featuring bold and playful colourful shapes tightly synchronised with a Cuban jazz soundtrack, and went on to inspire other luminaries to explore the field such as Stan Brakhage and Norman McLaren (who aside from an illstrious animation career, also wrote "How to make animated movies without a camera"). From here Len Lye only pushed his handmade explorations of rhythm and motion even further, and the decades that followed are the focus of the current free exhibition at ACMI, a smorgasbord of vivid film prints, paintings, sketches and most impressively, a good collection of his gorgeous kinetic sculptures.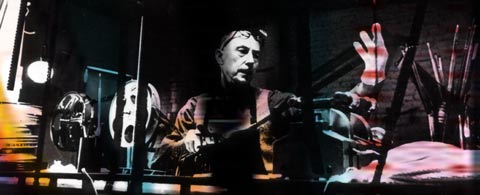 Kinetic Sculptures
"Kinetic experience lies deep in our bones, It is a more constant experience than any other.  Our hearts beat, blood runs, rib cages expand and contract, eardrums resonate, lungs vibrate, every attitude we enact we enact kinetically."
Inspired by the idea of 'composing motion', Len Lye's attempts to do so extended beyond film to a large range of mesmerising motorised steel sculptures, which ranged from small scale to landscape based, such as the 45-metre high seaside Wind Wand, and the The Water Whirler, which although designed by Lye was never realised in his lifetime, finally installed on Wellington's waterfront in 2006. Len saw film and kinetic sculpture as aspects of the same "art of motion", which he also wrote about in essays. Wandering into the sculptural component of the ACMI exhibition, we are treated to a variety of gentle whirs and pulses, as a combination of motors, clever positioning, gravity and the surprising elasticicity of large metal shapes helps shift the sculptures into slow hypnotic dances, the dim lighting allowing the metallic sheen to trace gorgeous patterns as the shapes ebb and flow. The sculptures alone are worth visiting, but those on top of a chance to sit and watch his vividly executed films and explore artefacts from his artistic process, makes this an exhibition worth checking out multiple times.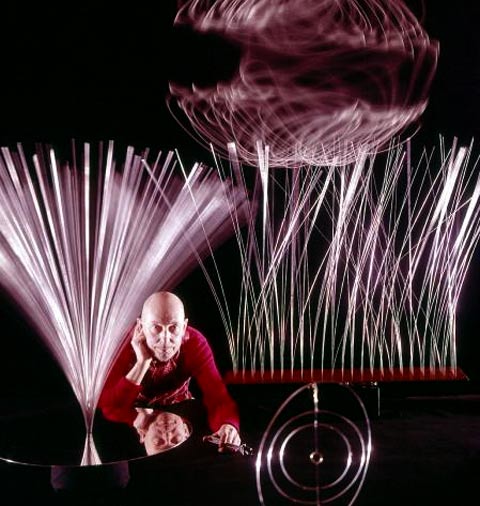 Lecture on Movement and Time in Film
Sun Sep 13 ( 2PM ) sees a special one-off related event, Gary Simmons delivering a lecture on the remarkable elasticity of cinema time: speeding up, slowing down and playing with our sensory experience of the world. Taking as his departure point Gilles Deleuze's theories of cinema, Gary Simmons examines the capacity for screen-based media to modify space and time. This kaleidoscopic movement and possibility for multiple temporalities will be explored in a cross-section of films and artworks by the likes of Len Lye, Maya Deren, Ivan Sen, Michel Gondry, the Wachowski Brothers, Stanley Kubrick, the Dardenne Brothers and Richard Kelly. ( Free Tickets available on the day from the ACMI Box Office. )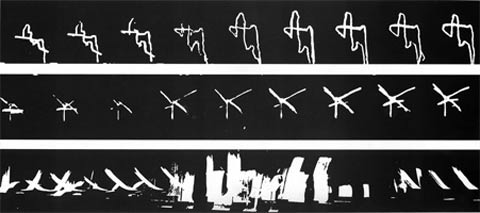 Len Lye Resources
The Govett-Bewster Art Gallery ( NZ) which houses much of Len Lye's work, Wikipedia, Youtube, Particles in Space ( Lo-res version of a particularly stupendous scratch film that seems to employ 3D camera movement around a series of tiny scratches dancing in time to tribal percussion. Handmade, yo! )
Autobot Roulette: