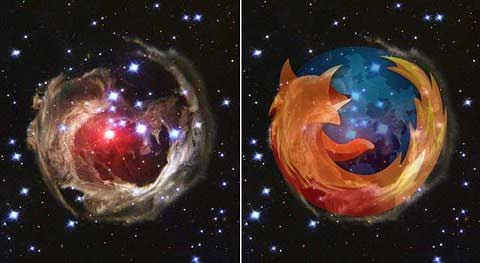 "There needs to be a word for technological ennui, the state we exist in where anything is technically possible and the only thing that holds us back is our imagination. No sooner can you imagine a new application of an existing technology than someone has actually done it, posting details of their hack around the world."
via things magazine ( although they weren't writing about firefox, but an iphone 'lighter-in-the-air-at-concerts' app.. )
Firefox 3 Extension Wishlist
Firefox 3 is a great improvement, feels the fastest of any browser I've used, cleverly extends the URL auto-suggest idea to include parts of words in the description of a site as well ( more useful than it sounds, if you've been anywhere, this'll help find it again really easily ). Not all extensions have been updated to be compatible with this new release though, but going by the above iphone-lighter principle, where things are being made somewhere else as soon as you think of them, we should be able to list a few desired features for a browser and find that in fact, they are already there. Let's see.
– Custom modify a browser and easily import those modifications to a browser on any machine?
Ok, so 'Firefox Environment Backup Extension' supposedly takes care of that, backing up all your extensions and enabling you to wander to any computer with Firefox, install just that one extension, and then easily adjust the browser to the extension-packed way you prefer it. Except the OS X version is still playing catch-up.
– Start up your favourite / most needed sites in different tabs in one go?
Can do this by setting a folder in your toolbar, bookmarking into it, and choosing 'open all in tabs', but Morning Coffee adds a few variants to this – allowing sets of bookmarks to be stored for particular days. One click to add a site to a list, one click to open your faves.
– Play a whole bunch of old nintendo games inside the browser?
That'd be FireNes – www.firenes.com.ar .
– Bookmark things so they can be read on any computer, and browse/subscribe to collective bookmarks on your favourite topics?
The delicious bookmarks extension is your very, very good friend.
– Get rid of ads on certain regularly used pages?
Mmmm, Ad Block Plus.
– Block annoying flash apps on a page by page or domain by domain basis?
Easy enough.
– Post about pages viewed to a blog?
Many ways to do this, Scribefire does it well, allowing "users to easily drag and drop formatted text from the Web into their blog(s), post entries, take notes, and optimize their ad inventory, directly through the Firefox browser."
– Save longgg, awkward URLs as short ones, with a simple rightclick?
TinyURL, isn't it?
– Allow yourself to have a gazillion tabs open, and have more control about how these are used or quickly navigated between?
TabMix Plus, which is usually my first extension installed on a fresh firefox on another computer…
– Manage these gazillion must-read-soon tabs?
Read It Later – "eliminates cluttering of bookmarks with sites that are merely of a one-time interest. "
– Download all the media related photos, sounds, videoclips on a given page in one go?
http://www.downthemall.net
– Copy all the URLs and titles of these tabs in one go?
Haven't been able to find something to do this in version 3 – theoretically someone should have already built it, it's my fault for not having found it.
All of which of course, are drab, banal expectations of a browser which stem from thinking within the browser's traditional limits for too long. I'm sorry. Let me know when Firefox 3 extensions are ready for :
– Finding my keys, wallet, mobile phone, remembering my pin number?
– Blocking certain celebrities from ever appearing in any media consumed, inviting others over for BBQs, creative collaborations, island getaways.
– Going beyond net neutrality and taxing the bandwidth of anyone browsing media that involves certain celebrities and re-distributing that bandwidth to people watching 'better stuff'.
– Keeping the cats fed but not overfed, when late-night rooftops need climbing over, islands need to be got away to.
– Auto-disseminating a whiff of extra tree seeds to farmlands and forest floors during every hour spent unnecessarily hooked up to the big smoky grid behind the browser.
– Auto-finding a yoga class in your neighbourhood, at a timeslot that suits, and giving you 20 minutes warning of your internet cutting off, to be resumed 20 minutes after the class finishes.
Autobot Roulette: