As we continue to outsource our memory processes to small pocket electronic devices, it's nice to occasionally reflect about artists who play with the ways we remember, and how sound can shape this.
Emile Zile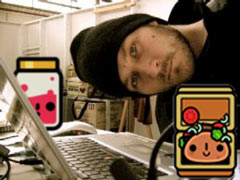 Back in the twentieth century, pre-omnipresent digital cameras archiving all moments of urban life, Emile Zile was busy hustling the inner-city lanes of Melbourne, snapping photos of its vibrant graffiti scene, steadily documenting it for all to see at the now defunct cleansurface.org ( digital archiving is another whole can of worms for another time ). Everpresent in the collection were moments of humour, Emile having a keen eye for unlikely juxtapositions and everyday absurdity.
Emile's now studying video in Amsterdam ( fresh Dutch blog action ), but the beginnings of his current video art explorations can be traced back to an appearance of his on National Australian television, where he was selected as a contestant on a game show, and proceeded to upstage the host with a series of gestures, later narrating his thoughts of the experience onto a video ( now archived alongside others ).
The video explorations continued, culminating sometime later in a phase of laptop black metal, with a much better Kiss theatrics kinda presence than that implies, with abundant fake blood, make-up, custom video and refried metal. Emile's eclectic VJ tastes and style made it seem a natural progression when he became the band VJ for Melbourne's infamous alt-hip hop crew, Curse Ov Dialect ( "our own sound somewhere betwwen mr bungle, public enemy and everywhere in beween sampling everything from inuit throat games to psychedelic folk—but still straight up hip hop!" ). For last year's European tour without their unavailable turntablist, Emile simultaneously handled sound duties – via VJ software, deftly mixing pixels while sending out the backing tracks – including pre-recorded turntablist video!
All of which is pre-amble for a recent peformance of Emile's called 'Post-It Kino'. Briefly back in Melbourne for the 2008 Next Wave Festival, Emile was one of 7 artists participating in 'House Proud' – a novel arrangement where the artists were invited to use strangers' homes as both a gallery and the source of their inspiration, making site-specific work, that an audience would later visit and explore for one night only.
Arriving at the house in question, Emile's audience were ushered into a lounge room that had been converted into a private cinema with surround sound ( six screenings / performances over a 3 hour period ). We faced a projector screen, Emile sitting beside it and pointing a video camera at a TV screen facing himself, a generic bouncing DVD icon moving around the screen. And then it began – a cluster of instantly recognisable movie soundtracks were loaded one by one, filling the space, and Emile scribbled words on yellow post it notes, and started sticking them onto the TV screen in various sequences. "Close up of eyes." "Close up of holster." "Tumbleweed blows." Combined with the western movie soundtrack, it was surprisingly compelling cinema. The sounds of a helicopter rushed around the room. Two words : "Martin Sheen". Then "ACID", "a broken mirror", etc etc. Apocalypse Now had never been so funny.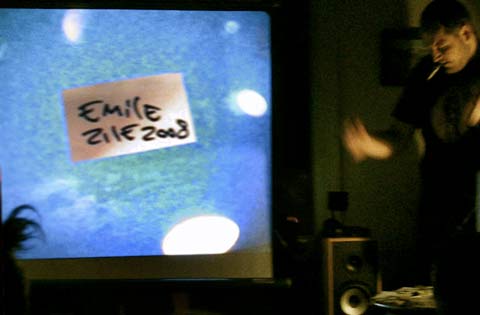 And Subsequent Krushing
Fresh after Emile's House-Proud gig, went along to catch the touring Japanese turntable maestro, DJ Krush. Virtuoso vinyl performances inevitably involve playing with memories, in Krush's case there's now quite the back catalogue of treasures to trigger. Tonight though, moreso than usual, he seemed able to tease out those memories, and toy with our expectations, taking twists and turns, resplicing and reconstructing at will. A decade old classic hit is almost implied, rather than introduced, and as the crowd cheers with the recognition, the track seems to implode in on itself, somehow shuffled into an entirely new formation.
Bear with with me, but if track A was like an inflatable giraffe filled with water, walking around with orange fish swimming inside it, then this newly formed, this new track being created by the man with the decks and effects, would now be better described as an inflatable cheetah, filled with water, stealthily jogging with small inflatable giraffes swimming around inside it. Something entirely new yet based on the utterly familiar. And on it went …
Part of the arsenal to help these reconstructions are evident in the photos below, the shot by Melbourne's Lynt showing Krush's laptop based digital mixer interface, enabling him to load many versions or layers of a track, and the Vestax shot showcasing his PMC-20SL 10 year old mixer which features an in-built sampler and delay effect, and a bunch of sliders he was caning at the Prince of Wales gig…
Autobot Roulette: