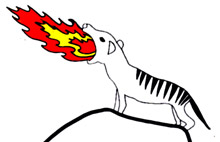 How many species died their last death in 2006? Hard to uncover, but a decade ago, Edward O Wilson, the Harvard naturalist, estimated that about 30,000 species were going extinct each year – an extinction rate of about three an hour. So let's say 30,000 species disappeared in 2006 – including the Yangtze River Dolphin & the Western black rhino – nobody will be seeing them ever again. Fun headlines from reputable sources are all systems go at David's Extinction site:
One Third of Primates Face Extinction (BBC– 2002)
One quarter of mammals face extinction within 30 years (United Nations– BBC– 2002)
Mass Extinction of Freshwater Creatures Forecast (WWF Report)
90% of all large fish gone from world's oceans ( Nature 2003 )
World's amphibians face extinction (Chicago Tribune– 2006)
Half of earth's plant species face extinction ( BBC Science)
Etc etc….. And if present trends continue one half of all species of life on earth will be extinct in less than 100 years, as a result of habitat destruction, pollution, invasive species, and climate change.
No doubt other species / nature / lizard-people overlords are praying for the likes of Bird Flu, AIDS, Mad Cow Disease & Ebola to get together and mutate into some kind of ravenous, unstoppable salvaging beast.
Autobot Roulette: