"Be still my dog of war. I understand your pain. We've all lost someone we love. But we do it my way! We do it my way. Fear is our ally. The gasoline will be ours."
Mad Max 2: The Road Warrior' resonates eerily today, not so much because of characters like the hockey mask wearing leatherboy 'Humungus' who spoke these lines, but for it's emphasis on battles for oil. Nevertheless, even a brute cartoonish villain like 'Humungus' would have little trouble adapting to contemporary graphics tablets. If 'Humungus' was a graphics boy, a tablet would speed up his processes considerably.
Hand Eye Co-Ordination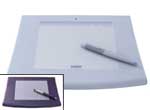 Quake and Counter-strike advocates are quick to point out to critics, the benefits of long hours before the screen. And perhaps our generation may indeed enjoy 'improved hand-eye co-ordination', but even hardened mouse and joystick users will still require a little getting used to a pen and graphics tablet. The Intuos 2 is mapped out in such a way that the tablet represents the entire screen. Move your pen over particular section of the tablet, and the cursor will appear over the equivalent section of the screen. Simple enough, and you get used to it quickly, but still a little strange at first. The model I tried was the Intuos2 6″x8″(inches), which means the area you can move your pen over is roughly 'A5', or half an 'A4' page.
Features
The tablet & pen work straight away in true plug n' play form, but kick in better performance when you load the latest drivers from www.wacom.com, offering more refined control. The pen itself has a twin button on its side which can be modified to become often used key commands, or clicks / double clicks. The end of the pen is an eraser, and both it and the 'ink' end of the pen are highly adjustable. The pen features 1024 levels of tip and eraser pressure, tilt, angle and direction – meaning you can squeeze out a high degree of variable lines when drawing.
For the illustration challenged, the tablet also allows very easy tracing of images – it works by detecting the pen's location when it is half an inch above the tablet, which means u can tape a piece of paper to the tablet and actually trace a picture outline and then see this image recreated on the screen. And built into the device is a durable transparent overlay so that you can easily slide photos and art under the overlay for tracing. Each Intuos2 tablet also features menu strip buttons above the active area of the tablet for easy access to your favorite shortcuts, just set each button to whatever you want and click on it for immediate access.
Included Software: PainterClassic, Adobe Photoshop Elements 2.0, ComicStudio mini
What Else Can Tablets Do?

Graphics tablets are potentially useufl input devices in many ways. Because the tablet very effectively mimics the screenspace, they can make very effective Controller devices for audio and video – where you can have quick and accurate access to the X & Y co-ordinates of the screen and control parameters within an audio or video program. Unlike a mouse though – when you lift your pen and lower it elsewhere on the tablet, the cursor doesn't drag along to the point, it jumps to it – allowing for different ways to approach FX.
Within video programs such as After Effects 6 and its Vector Paint function, tablets can be used to record your drawing as video – for creating moving handwritten names as titles, or creating graffiti shapes that unfold as you watch. For vector based art fans – there's now a free download available of Expression, a great vector/bitmap program – which has supposedly "the best tablet support of any of the graphics apps." www.microsoft.com/products/expression
System Requirements for Intuos 2 tablet (USB Version)
* PC – Windows XP, ME, 98 or 2000 (95 not supported); USB port, CD-ROM drive and color monitor
* Mac – OS 8.5, 8.6, 9.X, 10.x or later; USB port, CD-ROM drive and color monitor
Where?
The Intuos 2 Tablet & pen are distro-ed in Oz through : www.videobytes.com.au – rrp: $419
This week's Technoscape Theme song:
Bastard pop remix of 'Star Wars' & 'US forces' by Peter Garrett. Australia & the US have just signed a pact to develop a controversial missile defence shield. Stay tuned for the next Fridge Magnet terror awareness pack.
TWT Theme Movie: Spiderman 2 in Lego..
Autobot Roulette: