Movie star guests and a huge roster of great films is fine, but it's exciting to see Melbourne's International Film Festival embracing some live cinema experiments this year.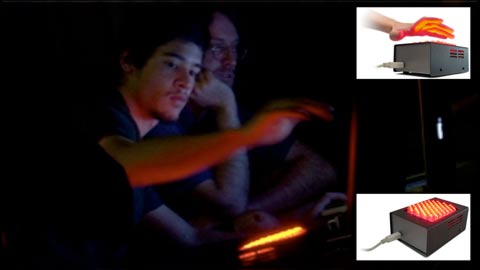 "If I've learned anything from big budget action movies it's that complicated global problems are best solved by one lonely guy." –
So sayeth the cheeseburger chumping Morgan Spurlock (Super Size Me). Morgan will be chatting with John Safran about his latest film, 'Where in the World is Osama Bin Laden?', Sat 2 Aug 4:00 PM, Cooper's Festival Lounge, 154 Flinders St. Those two'd be stars, yes. Stallone and Schwarzenegger can finally pass the baton to the new generation of action hero pranksters out to save the world.
Not to forget Eric Bana – who will be presenting a screening of George Miller's Mad Max II ( Tue 5 Aug 7:00PM @ Forum Theatre ), and talking after it about Peak Oil, Climate Change and the need to curb our addiction to fossil fuels ( or maybe the Hulk or Chopper etc ).
Five Lines, Five Films? 
I'll be @ these, holler if you're heading along…
DaiNipponjin Sat 26 Jul 11:15 PM Greater Union 5 : Japanese comedian Hitoshi Matsumoto tries his hand as director *and* mega-sized superhero.
PERSEPOLIS Sat 9 Aug 7:00 PM Greater Union 6 : Feature length animation telling the story of a girl growing up in Iran. 
WALTZ WITH BASHIRÂ  Sun 10 Aug 1:00 PM Greater Union 4Â : How many compelling Middle Eastern feature length animations can one festival have?
THREE MONKEYSÂ  Sat 2 Aug 5:00 PM Capitol : Turkish thriller that untwists interior worlds and recent Cannes festival winner.
PLEASURE OF BEING ROBBED, THEÂ  Sun 27 Jul 9:15 PM Greater Union 4 : Quirky daydreamer of a film featuring road trips, lots of theft and a polar bear.
( + have seen, but highly recommend MAN ON WIRE!)
( Films listed in A-Z on one page )
Intermission: Who is Miss Roder?
Located in an old Flinders lane warehouse ( Fri 1, Sat 2 Aug ), this series will feature a series of performance film events from international guests and some of Australia's leading exponents of 'expanded cinema' and video art. With quite an engaging mix of digital and analogue experimenters on hand, this should be quite a treat. Amongst the highlights – experimental animator Dirk de Bruyn, Abject Leader's photochemically milked sonics, Guy Sherwin with Lynn Loo, Ben Russell, long time Melbourne visualist Steven Ball returning to the city, and a chunky, descriptive program. 
Jon Pak (pictured above), experimental composer, designer of the http://lightmatrixinterface.com hardware, one of Melbourne's dorkbot organisers, and recent deliverer of a very popular Next Wave festival soft/hardware performance workshop ( aye he's busy ), had this to say about the Miss Roder event he's involved with:
What's 'the Feast' ?
A performance piece that examines ritual and the subtleties of human interaction through sound within the context of a fine dining setting? Or a couple of ill-mannered restaurant patrons making a ruckus in the name of art.
What was your role within that?
Concept, sound design, video, broken glasses, soiled tablecloths and much soldering.
What'd you find challenging / surprising about the development process?
Working with the thespian types. It's something I don't have much experience with and also from the actors' perspective, they were not used to working with sound. So the process has been a challenge, but to their credit they are doing a marvellous job.
Intriguing software in 2008?
Quartz Composer. Not exactly new in '08 but recent additions in late 2007 have opened up some exciting possibilities in the areas of video processing and interactivity.
Hardware?
The iPhone. Again, not so 2008 but the potent mix of accelerated graphics, multi-touch capabilities and network facilities make for an intriguing development platform with many exciting possibilities. I want one.
What are the joys and limitations of your Light Matrix interface?
Its got lots of blinking lights and it looks cool on stage. The downside is that it is difficult to play and a nightmare to set up. It's something I still haven't worked out: do we become a more proficient player or make the instrument easier to play?
What plans do you have for developing it further? 
Making it a permanent installation but I don't want to give too much away yet. Future versions may include new form factors, force feedback and better software integration.
MIFF 08 film you're looking forward to?
To be honest I haven't had the chance to look at the program yet. I'm always a sucker for animation.
MIFF 2006 Review
MIFF 2005 Review
MIFF 2004 Review
MIFF 2003 Review
Autobot Roulette: