Or how a lack of space doesn't seem to deter some people from getting their green thumbs on.
Ha-Ha Plants
Regan Tamanui's website proudly proclaims in a banner, that he is 'Australia's most prolific and notorious stencil artist'. It's a claim few in the stencil community would dispute, and to those outside that circle of spray paint fumes and stanley knives, there's a fair chance Regan's work has been stumbled across in the street, usually with his Ha-Ha tag somewhere nearby. Turns out though, that Regan is also quite the guerilla gardener, adapting lots of inner city spaces for one of his latest passions: growing food. I went to visit his inner city Melbourne studio to have a look at some of this in action.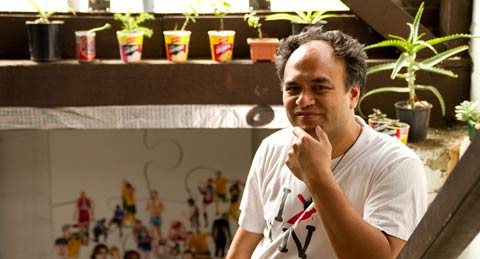 "I was previously a landscape gardener for 3 years in New Zealand, and have done a bit of it here ( in Melbourne ), I just really like being around plants and gardening, it's good to see some nature instead of the concrete jungle," explains Regan in his studio, surrounded by plastic stencils, stacked canvases, and pot plants, and next to a window ledge full of apple seeds he is drying out for a fruit tree project. Outside that second storey window of his studio, Regan has attached a series of milk crates with pot plants in them, growing herbs and small vegetables, some of the seedlings growing in styrofoam two minute noodle containers and beer cans.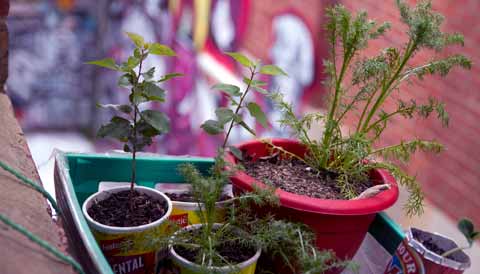 Aside from the studio, Regan also maintains mini-gardens in portions of the yards belonging to friends ( 'they end up getting more excited about it than me in the end..' ) and plants potatoes in vacant lots and spare space near train tracks.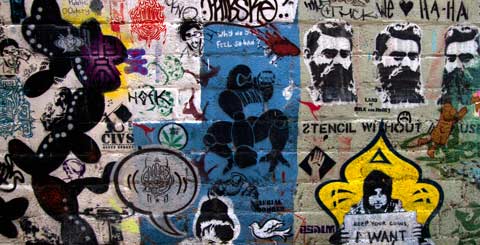 "It's just so satisfying to plant a seed and see something grow out of it, and then get to eat it. At a friend's place we've set up tomatoes and zucchinis growing on his rooftop, and the owner of the building wants to turn it into a full proper rooftop garden which is great. I have a friend who grows cactus gardens in a shopping trolley on her balcony in Bourke st… so you can really grow stuff anywhere."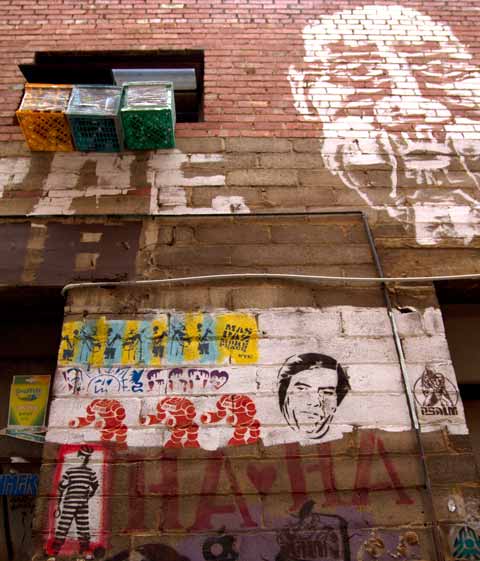 And art? Regan's stencils will be on gallery display Australia-wide from Oct 30th:
"The National Gallery of Australia bought a whole range of stencils in 2003, including some of mine, and they've organised a big touring exhibition of it called 'Space Invaders', which starts in Canberra, and then travelling to lots of places around the country."

[ Update – Liisa from Eatwithme.net points to this tram stop garden as a great example of urban food growing, which reminds me I also wanted to link to Permablitz, a cool group that 'eats the suburbs, one garden at a time'. ]
Autobot Roulette: