Quick scan of a few media file management apps that can help get to the fun stuff quicker :
Snapper is probably the quickest and simplest way to find and hear audio files on a computer. That alone renders it an attractive app in many people's eyes ( or ears ), but it has a few other tricks up it's sleeve too. Once launched, Snapper enhances the built in mac finder menu, by immediately displaying a wave file benath the current window whenever a sound ( or movie with soundtrack ) file has been selected. Use arrows or mouse to skip through the various sound files in your finder window, and each file plays near instantly as you do, the soundwave changing underneath at the same time. Above the soundwave are a range of tools, which allow easy selection of a portion of the sound file, and with a right click that portion can be saved as a standalone file, converted to mp3,
uploaded into protools, split from stereo into L and R tracks, converted to mp4 and attached to an email. It plays back over 50 different sound file types, playback speed can be adjusted to between half and double speed, it works under itunes as well and quickly and elegantly executes it's operations.
Available with a 100 day free trial, $79 after that. (OS X 10.4 or higher ).
Audiofinder has plumbed the same terrain since 2003, and so can offer a much more complex set of possibilities for manipulating selected audio. In it's full featured mode, I found it loses a little of Snapper's speed and ease of use in the process, but it also includes an option for running in a more limited mode as well. Loaded up and once a sound file has been selected, the richer array of possibility is evident from the Audiofinder toolbar : there's a built in BPM detector, a small keyboard to play the sample at different pitches, an audio unit effects menu, the capacity to extract and export a section – but also the capacity to process this in many ways. Some options include normalising, reversing, changing the gain, processing the mono to stereo , or on a more advanced level, the sound portion can be opened up within an Audiofinder sample tool which offers the ability to slice the sample into increments, and move these around, trim and edit sections, add effects and export in a variety of ways. All of which can be done in more complex programs, but the key here is the speed at which an idea can be executed. Search for a file, highlight section, crop as needed, export and done. Audiofinder also emphasises it's own search functions – once your directory has been scanned for sound files, you can save and retrieve specific searches – eg a seach for bass drum, or a search for cat or dog will bring up all related sounds found with that, and using the arrows or mouse will let each sample be quickly heard and edited if need be. External drive and even sample DVD drive searches etc can be saved as specific searches and used when need be. There's a range of powerful batch commands available for processing multiple files easily, comprehensive renaming features, and supports ReCycle, REX playback and export, creates EXS instruments and includes sysex transmission and SMF playback.
US$69.95 ( For Mac OS X 10.3, 10.4 or 10.5 Intel / PPC )
( Yes, both apps are mac only, drop a line if you know of an equivalent on PC. )
Adobe Bridge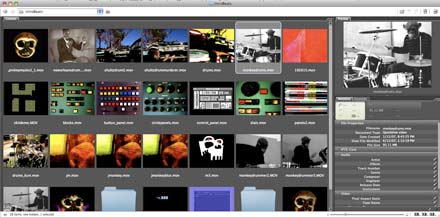 On the visual front, Adobe's Bridge media manager has probably been lurking unused on most Photoshop user's computers ( it comes with most recent versions of that program), but offers some vast improvements for organising, finding and displaying visual media. Vast folders of photos and movies can be seen and navigated through quickly, there's powerful batch renaming functions, clips or photos can easily be clumped together in ways that suit and folders remember this layout when next opened. It feasibly has use as a storyboard tool too, there being nothing like it which allows a folder of 200 videoclips to be viewed and rearranged so easily. See all the video thumbnails in one go, click on a file to see it played in the corner, move like files together, and rename or label or add metadata tags to batches of clips as need be. Hat tip to DFUSE for pointing out how useful this is.
Autobot Roulette: