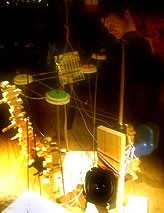 Brisvegan Ross Manning probably misses their mild-mannered winter now that he's based in Melbourne, but the cold fingers haven't stopped him from continually tweaking new sound-machines into existence, most recently at the Lost Gardens exhibit where his drill powered turntable sculpture was a highlight of the show. He has also self-released his first 4 Layers of 9 album – Trundle Clack, and is both performing and demonstrating instrument building workshops at the upcoming Liquid Architecture festivals around the country in July.
Clatterbox.net.au 'Meatwave' profile & contact details.
( Clatterbox is a site profiling many Australian experimental musical instrument makers )
Review of 4 Layers of 9 'Trundle Clack' CD in Cyclic Defrost
>>What attracts you to repurposing old technologies for making music with?
What I like about the older vibrating instruments and analog electronics is their tangibility as objects. As in you can touch them and physically play them, I think that the interface with computers limits (for me) that interaction. (Although, I know interfaces are changing)
>>Do you approach music making differently with Meatwave / 4 Layers of 9?
4layers of 9 uses a computer to cut n paste metal, kitchen utensils etc into unco clunky beats. Meatwave is like full spectrum wall of noise stuff.
>>What are some of the devices you've managed to utilize for sound?
Loads of stuff – vacuums, fans, tubes, fabric, telephones, fencing wire, records, custom electronics, fire.
>>What've been some of your favorite surprises, when discovering or making new sound machines?
Finding news sounds to use.

>>What was the inspiration behind the 2 works @ The Lost Gardens exhibition?
Probably the sounds- one used 4 mini records I found inside old toys as the sound source driven by a drill, with loads over wires and a hanging mixer, wood, speakers etc. The other one was based on light sensitive feedback circuits. The sensors from the circuits were triggered by a video of spinning colored lights. The video was played on an old unturned TV with speakers on spokes splaying out of it.
( jp: Some photos of the sculpted chaos here – http://lostgardenfound.blogspot.com )
>>What'd you enjoy about executing them, and what'd you prefer to have happened differently?
Yeah have learned a lot by having shows; probably work on the sounds and the quantity of the objects.
>>What do you enjoy about installations vs performance?
Again the physicality of objects I make a lot of moving sculpture, and it's that movement and independence I'm interested in. As for performances, its basically the energy of seeing the "event" live that I like.
>>What's your sonic relationship with Alan Nguyen ( of Anal Cookie ) in Faber Castell?
We hold hands.
Autobot Roulette: