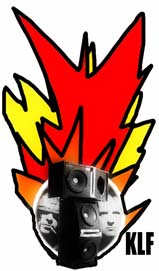 Noticed via Fat Planet there's a funny rumour worming around about the KLF supposedly 'inventing' the modern music phenomena of Pete Doherty*. Pete "Kate Moss's drug-buddy" Doherty is of course the lead singer of Brit-music-press hyped 'The Libertines', an ideal and quite feasible candidate for KLF prankery.
Whether or not it's true, no doubt KLF (Bill Drummond, and Jimmy Cauty**) would be mightily amused at this development, it adding nicely to their back catalogue which aside from hits 'What Time Is Love?', '3AM Eternal' and 'Doctorin' the Tardis' ( as the TimeLords ), includes – burning a million of their own pounds in a field, and the publishing of 'The Manual or How to Have a Number One the Easy Way', – which offers handy advice for those not getting enough myspace downloads:
"So how do you go about achieving a U.K. Number One? Follow this simple step by step guide:

Firstly, you must be skint and on the dole. Anybody with a proper job or tied up with full time education will not have the time to devote to see it through. Also, being on the dole gives you a clearer perspective on how much of society is run. If you are already a musician stop playing your instrument. Even better, sell the junk. It will become clearer later on but just take our word for it for the time being. Sitting around tinkering with the Portastudio or musical gear (either ancient or modern) just complicates and distracts you from the main objective. Even worse than being a musician is being a musician in a band. Real bands never get to Number One – unless they are puppets."
*Have heard not a note of Pete Doherty's music, thanks to the 'NME_enemy' firefox plug-in which prevents volume on any mp3s from a list of current Brit-press hyped acts.
**Jimmy Cauty co-founded seminal chill out, The Orb, with Alex Paterson, whom he has began collaborating again with, as 'The Transit Kings'.
tags: KLF, pete doherty, kate moss, the Orb, the Transit Kings
Autobot Roulette: