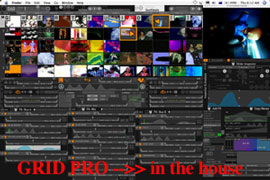 Snapshot of the live-pixel zeitgeist, circa August 2005:
Grid Pro 1.0 ( MAC )
www.vidvox.net
Flavour of the VJ month, GridPro is testament to clever coder co-operation with a community of users to continually develop and refine the interface, performance and features of a VJ app. The sample triggering 'GRID' is now up to 2.02, but the Pro version brings in a whole bag of features that take it to another level. Clips can be easily triggered from a keyboard or via MIDI, but can also be mixed and layered in a large variety of complex, adjustible ways, effected with a large range of FX, sequenced, and controlled sensitively by oscillators, 'waves' and audio or video analysis. Like Ableton Live, lots of clever subtle thought and work has gone into the interface development, and the end result is both intuitive and flexible. Let's just say it's a very customisable beast – stay tuned for a full review later. $250 US
VDMXX 4.2 ( MAC )
www.vidvox.net
From the same stable, a recently updated version of the more 'process' based VDMXX to suit the video conditions of the Tiger OSX 10.4 operating system, and benefit from a few interface enhancements. Same app, faster, more stable, smoother interface. Minor changes before it gets the overhaul, but still blitzing. $250 US
Modul8 2.0 ( MAC )
www.garagecube.com
Rumoured as one of the faster VJ apps out there, Modul8 2.0 boasts tightly coded performance at high resolution, and is well suited for composition – allowing up to 10 layers to be mixed, layered and re-ordered in various ways. Much of the performance benefits are claimed to be from the extensive use of the graphics card rather than the CPU and so it features good fast spatial controls such as moving, rotating and scaling your clips or images. A new 3D extruding option for 2D images, full midi controls, recording to disk ( or just the changing values ) and modular interface enhancements round out ze update. 299 Euro
Livid UNION 1.5 ( MAC )
www.lividinstruments.com
Significant update from the Viditar folk. Alongside a playback performance boost, timeline sequencing has been added, there is now up to four layers of effects per source, and more streamlined ways to trigger effects triggering. Previous interface bottlenecks have been improved, and it of course has all the MIDI and live camera goodness expected in an VJ app nowadays. $299 US
Arkaos 3.5 ( Mac, PC )
www.arkaos.net
Big upgrade for Arkaos with more than 60 totally customizable effects, now an unlimited number of simultaneous video layers with sophisticated transfer modes, better movie loop controls, a new automation mode, capacity to do Direct DV output through FireWire, a new 3D Surface effect and DMX controls ( sync video with lighting rigs, control lighting rigs via arkaos ). 279 Euros boi~!
VJAMM 2.6 ( PC )
www.vjamm.com
Now in a few flavours – VJAMM Pro – the full version, VJAMM Blueprint – which offers many well thought out 'VJ-templates' for easy use and A/V scratch for dedicated scratching. All of these come with the one licence, but VJAMM Pro now has improved Freeframe support, BPM auto clip sync, TV out overlay, very low latency ( clips trigger quickly), capacity to layer up to 16 tracks on top of each other ( ie polyphonic – many layered sounds and images at once) , and good audio as well as video control. GBP299, innit?
Motion Dive Tokyo ( Mac, PC )
www.digitalstage.net/en/
$349 US gets u an app that has been out for a while now, but is possibly enticing with the dedicated hardware release of an Edirol mixer, customised to exactly suit Motion Dive needs ( pic on site ).
Isadora 1.1 ( Mac & now PC )
www.troikatronix.com
Complicated modular program that allows you to build many kinds of video processing environments. Spurred along by a steady probing user base, the new release offers many, minor adjustments, firewire mirroring, graphics card acceleration, support for OSC ( a more advanced than MIDI protocol ), support for RS-232 devices and other interface enhancements. $350 US.
Flowmotion ( Mac, PC )
www.robotfunk.com
135 Euros gets you effects, wet and dry controls, sequenced triggering, freeframe support, scratching on every channel, mask layering on every channel and custom gradient wipes. 135 Euros.
EsX 1.2 ( Mac )
www.videokonferenz-berlin.de
Automatic navigation via trackpoints for sophisticated narrative playing, user-customizable LED effect, new "Block" effect, tint effect in every FX module, more FX on the FX3 module, mixer fader is now beat-synchronizable, support for midiclock, buffered live video input for decoupled scratching and playing. Some other speed enhancements, interface liftups, and bugfixes. 70 euros.
3DJ ( Mac / PC )
www.widewhitevoid.com
Site in german, demo available, nice looking interface… seems to have good functionality.. Feeling lucky?
Smode Studio ( PC )
www.galago.fr
Promising looking real-time animation software harnessing OpenGL / realtime rendering technologies, 3D objects(Meshes, splines and Particles),Video (Recorded and Live-Stream) and 2D Stills. Audio Reactive and Midi controllable. Very nice composition timeline possibilities evident in the screenshots. 299 euros.
AVMixer Pro 1.0 ( Mac, PC )
www.neuromixer.com
Cheap ($49.95 US ) but powerful app with two independent video channels plus DV input, audio mixer with EQ, loop and movie controls, effects and recording features. Also make AV Drum, an audiovisual step sequencer.
Free Software
Quartz Composer ( Build your own with it – part of Mac OSX) (www.quartonian.net)
VJ SoYuz ( mac ) http://vjsputnik.com/soyuz.html
Dervish ( mac ) http://goldbergs.com/dervish/
midivid ( PC ) www.midivid.com
jean poole
Autobot Roulette: