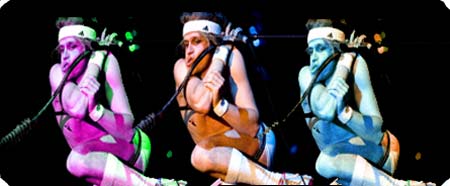 Eye-popping array of solo and group performances to his name already, sword-swallowing rubber jointed contortionist, Captain Frodo, further expands his range during the Melbourne Comedy Festival, his new solo show beautifully combining storytelling, the singing saw and outrageous stunts.
In the Beginning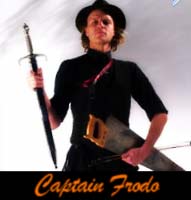 When I first saw Frodo contorting and squeezing his body through the heads of 2 tennis racquets in a Brisbane mall, a few things were obvious – he was a great performer, was insanely flexible and had likely been doing this a while. This was
reaffirmed watching his performances with the wonderfully choreographed quartet 'The Happy Sideshow', where he and Space Cowboy lifted a keg of beer by chains through their nipple piercings, lifted tables with their tongues (nailed to the table! ), and generally kept the crowd enraptured for an hour. Frodo was also kind enough to later appear in a short film I made, contorting his limbs into impossible shapes and escaping a straitjacket to answer the mobile phone ringing in his backpocket.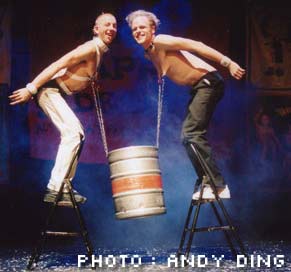 And to use the old Happy Sideshow catchphrase – 'it just gets better!' – his latest show, 'The Adventures of Captain Frodo – Tales of a Modern Day Showman', deepens appreciation of Frodo's tricks and showmanship, includes a singing saw routine, limbs contorted in ways you've never seen before, cameo appearances by his Norwegian magican father on the big screen, and colorfully sketches Frodo's various transformations on his path to the sideshow. Highly recommended.

>How did u make the shift from magic tricks to physical performance?
Performing magic always made me nervous – the audience is always trying to catch you out, and when I was 12 or 13 trying to perform to punk friends in Norway, they were a really hard audience to perform to. Magic is also a bit about pretending, and I wanted to try and do performances that were more 'real'. I've always been very flexible, but I also have a medical condition called Ehler danlos syndrome which in my case makes the ligaments in my joints extremely flexible.
>Have you ever had any injuries during shows?
No, never during a show – although very flexible, I always warm-up and do stretches and try to maintain my body. And you tend to push yourself much harder during rehearsals than during shows, as to perform in front of an audience you need to be able to do your tricks very, very well.
>How much of sword swallowing is mental or physical?
In the beginning it's very mental – it needs lots of concentration, or what I call carnival meditation, where you visualise on what happens so you can suppress the natural body response to vomit when you put something down your throat. After practice it gets more physical, as you start to focus on particular internal muscles and feel where the sword might be touching them, and you learn slowly to control them. And so eventually, like playing guitar, it becomes something you are feeling more than thinking.

>How long is that sword u swallow?
52cm – though I could probably swallow a bit bigger, but that size is safe for me to do when I have a lot of shows on – everyday during the Comedy Festival and I was doing them twice a day at the Adelaide festival.
>What attracts you to the 'Sideshow' over the circus?
I'm looking for performance that is as real as possible, and with sideshow I love that you are talking directly with the audience. It's so visceral – you can't get any more real in terms of theatre, when you are swallowing a sword.
>What lead you to your current mix of storytelling & performance?
So far I've been doing a series of circus & sideshow tricks, mostly funny with a series of links. I wanted to explore telling stories and involving different emotions, and I like the challenge of telling a story while performing difficult tricks. This show is a first attempt at that, and so I did it about my life – growing up as the son of a Norwegian magician, how that lead into travelling circus and sideshow performances and with my different tricks threaded through the story. I'd like to move into developing more elaborate fiction after this, combining my sideshow skills with other stories and moods.
The Adventures of Captain Frodo – Tales of a Modern Day Showman:
runs until May 7th, Trades Hall, 54 Victoria St, Main Entrance on Lygon Street, Carlton South
Bookings via 03 9659 3569 or http://www.comedyattrades.com.au
Autobot Roulette: