Gathering links for a visitor makes you realise it's quite the city for eyeballs, old Melbourne town.
Australian Centre of Moving Image
: Usually has a few exhibitions / screenings, the free Christian Marclay exhibit currently exhibiting is available until February 3 and has several cool AV collages worth checking out. The nearby Federation Square public screen often hosts interesting public screenings too.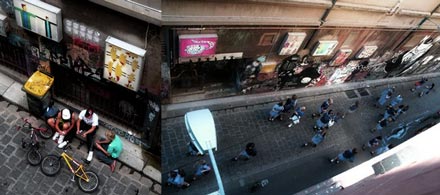 City Lights Project
Across the road from ACMI, is Hosier lane, ever drenched in graffiti and stencils, and host to a monthly laneway exhibit hung high and illuminated in light boxes. Also located in another CBD lane, Centre Place.
Stream Collective : live A-V performances, adventurous sound, screenings and installations.
Stencil Graffiti Capital Hearts Melbourne. More stencilly stuff.
Pecha Kucha Melbourne : Series of rapid-fire design and graphics presentations by wide range of melbourne visualists.. with big audiences, big design social event..( next event mar 19 ).
Forepaw : Shopfront in Northcote transformed into gallery, venue, comic + illustration jam nights and much more.
Just missed 'Trails' http://forepaw.org/trails.php group drawing jam night ( Tue Jan 29). ( "Bring pens. And beer").
Sticky Institute : Zine store and seller of much lo-fi and rad print stuff.
Is Not Magazine : Maybe you've seen that giant one sheet magazine that gets printed in colour XXXL and pasted up on walls around the city? This is it.
Comic's Lifestyle : Lots of the Melbourne comic making massive live here.
Breakdown Press : Local independent publishers of provocative visual material.
Engage Media : Local makers of software for self-publishing video online
Dorkbot Melbourne : Local tweakers of electricity and odd projects.
Footscray AudioVisual Social Club : Regular show and tell events @ Footscray Community Arts Centre.
Tape Projects : a collective of young and emerging artists who champion provocative, temporal, audio-visual works and site-specific performances by our peers in and around Melbourne. ( Also release a quarterly DVD ).
Horse Bazaar : Club with a really, really long video screen that wraps around a corner, and regularly features visual artists.
Loop : Another club with many dedicated video walls and regular visual arts bits & vj projections.
Plug N Play Melbourne : Pixellists and live visual experimenters every 2nd thursday of every month… 201 Smith st, Kent st Cafe, Fitzroy, 8-11pm + free.
Art Galleries? Melbourne has those too. ( 150+ here for starters )
Film Festivals / Open Air Cinemas / Cult film Societies? Try….
Popcorn Taxi, Melbourne Cinematheque, Silver Screen Sundays, The Astor Theatre, Melbourne Underground Film Festival, Italian Film Festival, The Other Film Festival, Melbourne International Film Festival, Bicycle Film Festival, Melbourne Queer Film Festival, Antimatter Underground Film Festival, Rooftop Cinema, Moonlight Cinema, Junkyard Cinema, St Kilda Openair Cinema, Melbourne International Animation Festival etc etc and film festivals every second weekend or so for just about every clump of people big enough to call themselves a nation.
*MISSED ANYTHING* ?? Throw it in the comments, and I'll add it on…
UPDATE :
Outpost / Share : last Wednesday of every month at Horse Bazaar. A/V jam night with feat. guests. ( thanks, Boz )
Time Capsules: 'Screen Gems in Strange Territories' every Friday 8.45, 127 Campbell St, Collingwood
(found via 'i flips me lid' )
AudioVisual Melbourne is a mailing list with frequently posted items about interesting (audio+) visual events in Melbs.
Autobot Roulette: