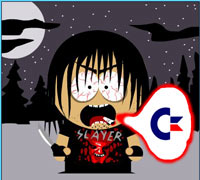 Mp3 blogs are becoming one of my favourite ways to find new music. Wander/wade through the ginormous collection of them, subscribe to the one's you like (via RSS), and watch the daily flow of great mp3s roll in.
Such as these Slayer covers via Cake and Polka:
Commodore 64 Sid Chip Tune Slayer!
Lunatic – Seasons In The Abyss (mp3)
NES Chip Tune Slayer!
lonytynch – Angel Of Death (mp3)
The demented acapella version of Slayer's Angel of Death is well worth a listen too.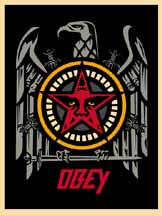 And shout-out for this post goes to Emile Zile, who suffers that most awkward of birth-dates – January 1st~! Watch Emile's videos and drop him a line b4 the clock strikes~! ( Look out for 'Larry Edmur's Suit', where Emile hilariously out-gestured the goofy host on the national television gameshow 'The New Price is Right'.) Here's hoping NYE 2005 is a rockin one 4u in Europe, EZ~!
.
.
tags: slayer, c64, nes, mp3blogs, mp3
Autobot Roulette: