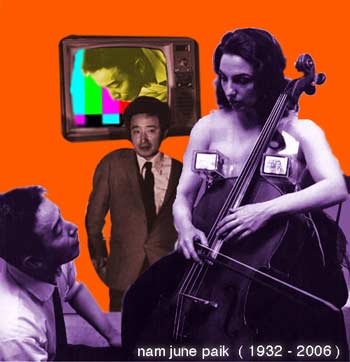 Death renders all the world's technology meaningless.
So it goes.
Pioneering electronic visual artist Nam June Paik passed away from natural causes on January 29th in his Miami home. That the web now overflows with tributes to the mischievous 74 year old provocateur, is testament to his abilities for transcending tech-worship, and instead doggedly pursuing how technology could be used to describe anew, the human condition, or our human connections. Plus, he was very funny.
A Short Biography
Nam June Paik was born in Seoul June 20, 1930. He first found interest with music and learnt piano at age 14, then moved to Hong Kong in 1950. In Germany he received tutoring and inspiration from the seminal composers Stockhausen & John Cage, and began to expand his ideas of composition and performance, eventually developing an obsessive interest with the electronic moving image and media technology, and how they might re-shape composition and performance. In 1964 Paik moved to New York and throughout the 60s, 70s and 80s carved a considerable reputation with his experiments with television, video and especially installations which combined them in public spaces. 'That guy who did lots of weird stuff with tv sets' was married to Japanese-American Shigeko Kabota, and in 1996, he was left partially paralyzed by a stroke.
Some of his more famous works include 'TV Buddha', which presented a buddha statue facing both a surveillance camera, and a monitor displaying both the recorded buddha, and the viewer of the artwork and passers by.
TV cello – an attempt to produce an audiovisual instrument, which consisted of television sets mounted to resemble the body of a cello, and attached to a neck, string and bridge of a real cello and electronic pick-ups which also sent electronic signals to the screens.
Fluxus
Nam June was a key member of the Fluxus movement, one of those notorious twentieth century art movements whose photos jump out of the history books with their absurdity and daring. Some of these photos may include shots of Marcel Duchamp, John Cage, George Maciunas, Joseph Beuys or Yoko Ono, perhaps in the midst of some "action" event, some attempt at unhinging the traditional artworld, or expectations of artists.

Nam June Paik Quotes:
"Art is just fraud. You just have to do something nobody else has done before", he famously declared during an interview with a Korean newspaper..

"I make technology ridiculous."

"I am a poor man from a poor country, so I have to be entertaining every second."

"It is the historical necessity, if there is a historical necessity in history, that a new decade of electronic television should follow from the past decade of electronic music." (1965)

"Without electricity, there can be no art." (ca. 1976)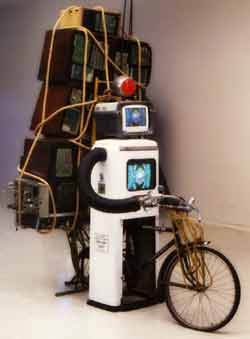 Paik is thought to have coined the terms "information superhighway" and "the future is now," as well as having global influence with his work.
Nam June Paik Online:
His official site, has an extensive image gallery, bio, essays and more.
The Nam June Paik Museum is under construction in Korea.
Read about Paik's exploits within the free online PDF book of >> Gene Youngblood's "Expanded Cinema" (1970)via ubuweb.
Paik mp3 recordings – via banana nutrament.
Paik Video – on 2 x half hour TV shows in 86 ( found via youtube.com)


Update via DV Blog : Friends in Memory of Nam June Paik – Yoko Ono ( video memorial)
tags: nam june paik, fluxus, video art
Autobot Roulette: