What's been happening in the world of audio subscriptions and downloads?
The Elevator Pitch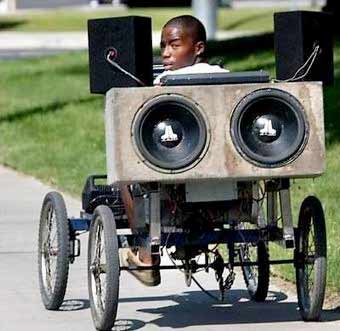 Podcasting in a nutshell? The publishing of audio files online in a blog-like manner, which enables them to be subscribed to with podcast software ( eg getmiro.com, juice receiver or itunes ), for automated downloading, first to a computer, and then to an mp3 player if desired. Which means two things – firstly, it has become very easy to create what is effectively your very own radio station ( with global reach ), and secondly – there is a vast audio universe of delights awaiting your earbuds.
The Public Transport Pitch
Podcasts have been around for a while now though, so what has risen to the top? What's worth listening to on that tram ride through the grey boxes? There's a few problems finding out – so much exists, and then – the usual crap-to-gold ratios apply with podcasts just as they do in any other media, but audio is much harder to search through than text, so it's harder to cover as much ground and find that uniquely satisfying quirky just-suited-to-you kinda thing. There's a few audio search engines around ( eg http://audio.search.yahoo.com, woonz.com ) but not so many like podscope.com which allows searching for words inside of an audio podcast or video file. And then there's the robots.
Useful if dizziness can be avoided, there's also a huge range of podcast directories to allow browsing of categories :
podcastdirectory.com, podcastdirectory.com.au, podlounge.com.au, podcastdirectory.org, podfeed.net, podcastdirectory.org.uk, podcastferret.com, odeo.com. More specific directories?
Radio National's MP3 audio and podcast service: abc.net.au/rn/podcast/default.htm
Several podcasts over at: sbs.com.au/podcasting and bbc.co.uk/radio/podcasts
50 public radio stations and producers with the National Public Radio in the states: www.npr.org/rss/podcast/podcast_directory.php – .
And there's also the in-built podcast searching within itunes ( apple.com/podcasting ) which allows easy browsing, selecting and subscribing.
Much as giant impersonal databases are fun, actual humans are pretty useful for recommendations too. Two long lists of favourite podcasts : via Textism, and via Shannon O Neill ( Syd sound-scaper ).
Some of my recent faves :
( Podcast links below, right click to copy URL, paste into itunes or podcast software of choice )
Chasing the Tangent, fortnightly mix by Sofie Loizou, Plum Industries, fortnightly mix by Jen Teo, DJ Rupture's Mudd Up! on WFMU, Dublab – Live sets by guest artists, Night Air – weekly collage soundscape eclectic themes, Ed Banger Records – occasional DJ mixes, Radio Lab.
Video podcasts? Find some of the Creative Cow Final Cut Tutorials, After Effects tutorials pretty useful :
And recently started pumping some video into this subscription friendly location : http://jeanpoole.blip.tv/rss/itunes
The Bedroom Pitch
Aye aye, DIY! Once audio files have been made, the trick with podcasting is just making those files published in a way that allows podcasting software can auto-detect and download them. This can be achieved with code ( adding an 'enclosure' to your feed ) or with simple plug-ins for a blog ( eg Podpress for the wordpress blog software ) that allow easy uploading and auto-embedding etc of mp3 files. Even simpler? Free hosts : libsyn.com, podbean.com, odeo.com and much more.
Autobot Roulette: