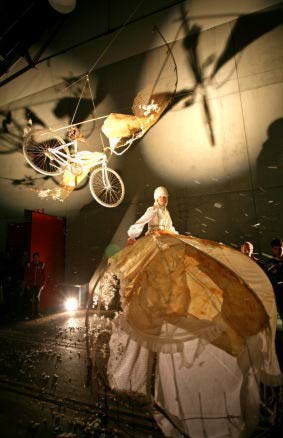 Underbelly @ Carriageworks
July 3 – 13, 245 Wilson st, Eveleigh, halfway between Macdonaldtown and Redfern stations.
While at first glance, it might seem as enticing as a community mosaic mural event or an amateur bongo night ( both great for participants but not necessarily audiences), this actually looks like a lot of fun – a public lab from 3-10 July, where a large range of artists converge to create art projects under the public gaze, with the aim of performing and presenting their work within the 2day Underbelly festival Jul 12 ( midday – 11pm ) and Jun 13 ( 2-10pm ). What makes it look interesting is the calibre and diversity of artists involved, and the range of projects they are aiming to complete. Clicking 'artists' at the site, reveals AV tagteams performing sets in a geodesic dome, artists trying to 'make the narrative film process physical', theatre groups with flying machines, an inflatable sideshow theatre, experimental tactile mixing interfaces, aerial acrobatics against video, bicycle powered projections, shadow-puppets, multimedia hiphop, a Mekanarky industrial sculpture retrospective, hanging gardens and floating sculptural speech balloons, kamikaze couture and muchos moros. People are encouraged to wander in to see the works in progress during the lead-up ( hence 'public lab' ), and then witness the end result on the 12th+13th.
Sydney Biennale Highlights?
To be honest, whether the site is to blame or not, couldn't find much of interest within it. There is a free collection of films screening at the National Gallery every Wednesday, 2:00pm and 7:15pm, and every Sunday, 2:00pm ( Hans Richter, Alfred Hitchcock, Robert Breer, Len Lye, Dziga Vertov, Michael Snow etc etc c'mon down… ). Also notable – a free ferry shuttle to Cockatoo Island in Sydney harbour every hour, seven days a week, in aid of getting people to various art events there. Might try and coincide a free harbour ride with the Shaun Gladwell talk on Sunday. Elsewhere? A bunch of talks and performances, exhibitions as you'd expect, but not much that really jumped out. Again, maybe the website wasn't really selling it, which seems odd given the scale of the biennale…
(* ie not this )
Autobot Roulette: