Hovering in deep space, two giant flagposts await their favourite blue-green ball. Thusly, all manner of fragments, almost-finished-bits, uncategorizables, overdue edits, and nearly-ripes pile up for gravity-bound folk stuck on the ball, and demand to be considered insignificant – until that would-be dotted line, millions of kilometres wide, is crossed once again.
The skynoise pile:
– reflections on the Istanbul Biennale, the Venice Biennale, a snapshot of Australia's live-video peformers in 2007, an illuminating interview with UK VJ Toby *sPark,
a piece written for an eco-mag about the transition to 'peak oil', clip and documentation of my 6 Screen Animation Panorama – 'Animals Really Are Funny People', publishing some recently made videos, publishing some older videos (that may as well be stored on a public rather than private hard-drive) and a few more audiovisual DVD Reviews – Umfeld (Netherlands / US), V-Atak (France) and via demux ( syd label) – Paperhouse by Peter Newman & Interpretative Dance by Wade Marynowsky ( aka Spanky, AC/3P etc ) ( both DVDs discovered in a small mountain of post upon return to Melbourne), and linking to a long list of rad-people, provocative ideas and tools discovered in the last few months.
… all of which'll happen sometime 'soon'*.
Here's hoping your 2008 is not just less wearying than usual, or merely life re-affirming, but in fact, *super-rad*.
*As will more filtering through the last few months ocean of photos.
Below, batch from a funtastic fortnight in Rome for the LPM video festival in September…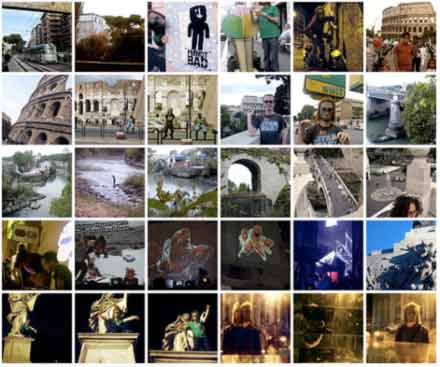 Autobot Roulette: