Point a big X-Ray machine at all the connected rabbit holes of Matthew Peters, and you'll find the following scampering skeletons : Mad/EQ ( glitch/hiphop with MC ), the Manhattan Gimp Project ( plays cello ), the Psychasthenia Society ( live audiovisual theatre & storytelling trio ), and the stuttery honey of Mad-EP. There are trapeze artists, breakdancers and movie soundtracks lurking in there somewhere too, but this'll have to do for this week.
What kind of processes do you enjoy for creating music (live or studio) with your current tools/instruments?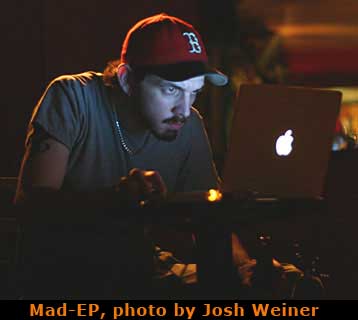 Current composition studio is pretty basic – an old G4 tower, still running OS9. No outboard gear, just a couple MIDI controllers for VSTi's or to perform live (using an iBook & Ableton Live in OSX). Am constantly recording with my microphone and minidisk – grabbing as many sounds as I can to chop up and blend with others to create my own. Also like to create my own physical instruments – but so far, most've been for sound sources rather for performing in real-time (that's the next step!)
Sometimes I have melodic or chordal ideas that I want to turn into a piece, but usually the inspiration comes from creating & sculpting the sounds. Once I have the right palette of sounds, the music just plays itself out in my head and it is a race for my hands to keep up, arranging it all in a sequencer. Once I have a rough sketch, I just keep refining and reworking till it matches the original idea in my head.
How are software and hardware transforming the ways traditional instruments are being played?
Well they're certainly transforming the way music is composed for those instruments. With the current ease of micro-editing, one almost doesn't need to have much more than a couple 1-note samples of an instrument. By re-pitching and arranging, phrases can be assembled that had never been played at all. I can play piano pretty well, but I haven't owned a piano in years, so I found some single note samples from a few different models of grand pianos, re-pitched them into as many different notes as I needed, and created my own chord progressions and melody lines. This technique also allows me to create melodies from instruments I don't play. It doesn't however, create phrases natural to a true player of an instrument. There can be both pro's & con's to that, but it does offer a new level of freedom to the composer without being confined to the limitations of an instrument (or instrumentalist).
The Psychasthenia Society blended theatrical productions of storytelling, video, and live music – what was interesting / challenging for you within this?
I was first interested because Jon Brunelle was 'sampling' movies to help tell his story the same way that I sample musical notes to help create my music. Dan Vatsky's live video work and my sound helped create a new way of telling multimedia stories – but really, it wouldn't be what it was without Jon's stories. At the final night of our month-long residency at the Collective:Unconscious theatre, after at least a hundred hours of rehearsals and several performances, I was still laughing at all the jokes because it's just so funny. He is the DJ Shadow of video-sampling – always getting the very best one that is so perfect, you have to remind yourself it wasn't originally created for his purpose.
It was challenging because in addition to technical issues, the three of us were constantly rotating between primary & secondary roles, so it was a delicate choreography of sight and sound. I told Jon and Dan it reminded me very much of playing in a string quartet – and considered our performances to be a new form of chamber music.
How well did it operate live (and who steered)?
I think it worked quite well – especially because the 3 of us rehearsed quite thoroughly. Before our month-long residency at the Collective:Unconscious theatre, we rehearsed a few times per week for several months in preparation. It paid off though – we played to capacity crowds and it was really well received. Steering? Jon – his creation, he writes all the stories, and guides the performances with his narrations. However, there are always a few 'audio/video jam sessions' between Dan & I… and those are very collaborative. He and I bring our own ideas & preparations to the jam, but we also react to and bounce off each other very much.
What would you do differently in another AV project in the future?
I would much rather try to find a way for the three of us to continue collaborating across the new geographic distance rather than try to recreate it with different people. We are talking to some festivals and hoping to get involved on that circuit – and I think there is a future online for what we do, as well as in live settings.
What feels different when producing soundtracks to accompany video?
The main difference for me, is that when I write music to be listened to by itself, I still write it with the hopes that it will create images & feelings for the listener to lose themselves in – and with the addition of actual video, the weight isn't purely on the music itself to create that experience. Subtleties can be even more delicate, and act as a support to the video (or vice versa). As long as the ideas aren't completely contrary, a lot of give and take can be had between the video and the music.
Upcoming releases / events of interest for you?
My next full length CD is coming out in Dec on Ad Noiseam tentatively called "Bass.hed". Also in December, am playing on an Ad Noiseam label showcase in Rotterdam, which will be coupled by a 12" compilation on NGM records. In 2008, I have a 12" with the Shadow Huntaz also coming out on Ad Noiseam, plus I've been working on a new CD for Hymen, a full length Manhattan Gimp Project album and a number of other projects.
Autobot Roulette: