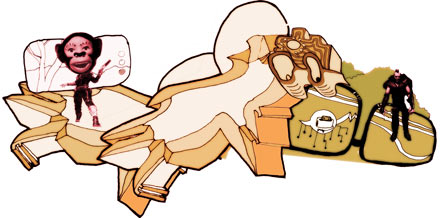 The whole private public motion blur is generally less of a concern with video sharing sites ( files uploaded are generally preferred to be publically available ), than with social networks. Ownership, profit and control however take an important front seat. As sites increasingly profit by aggregating content from their audience, inevitably audiences are wanting some of that profit. Leaders in the field youtube have announced plans to eventually share advertising revenue with creators of clips, starting initially with the more popularly viewed creators. Several other sites already have revenue share programs in use and earning cash for creators – blip.tv and metacafe being two, Scott Kirstner ( author of The Future of Web Video, and Cinematech blogger ) has a comprehensive list of the video giants that do actually reward contributors.
UK Indymedia asks bluntly :
With video.indymedia currently dead and googlevideo, youtube etc dominating the upload your own online video sector, what is the realistic future of truly independent video online?
Andrew of Australian video sharing site, engagemedia.org responds :
Well, there are many possible directions, and the newly released free, open source Plumi package aims to offer some more. Until now, the only other effective free and open source online video publishing platform available online has been the Broadcast Machine, made by (US-based) Participatory Culture Foundation. Like Engagemedia, PCF are participants in the Transmission network of online social justice video projects. For a year now Transmission participants have been working together to develop the tools and social networks to link projects together, stop reinventing wheels, expand our options and easily enable users to upload and download the video we want, when we want…. without having to give our work to the new corporate landlords of the online media sector.
Autobot Roulette: