Like some mechanoid Arab Godzilla, Dubai emerges from the desert haze and Persian Gulf coastline, super-sizing itself as it goes. A mega-project studded spectacle that unavoidably boggles the mind. Audaciousness on such a scale, and yet alongside that arab saying "My father rode a camel. I drive a car. My son flies a jet-plane. His son will ride a camel," it's hard not to think of it as foundations for the world's most elaborate ghost town.

Vat Ist Dubai?
Back in 1971 the modern emirate of Dubai was created with the formation of the United Arab Emirates, a federation of seven emirates on the Eastern side of the Arabian peninsula, at the entrance to the Persian Gulf. Surrounded by oil-rich nations and within short distance of most of Europe and Asia, Dubai has established itself as a key financial centre and trading route destination, featuring the world's largest human made port. And they seem to like that kind of scale there.
Mega Mega Mega
Higher than 800m tall when finished, will be the world's tallest structure : the Burj Dubai. Then there's 'The World', a collection of 300 artificial islands – that means yes, each one is being constructed – that form the shape of the world's continents. ( Apparently Australasia has already been sold to a developer from Kuwait.) The World (( "Take a tour of the world, and view our corporate video" ) is not to be confused with The World's Largest Shopping Mall – due for completion in 2008, and not to be confused with the worlds largest shopping mall which already exists in Dubai. Nor should The World be confused with the Palm Islands, the three largest artificial islands in the world. There is already one giant indoor ski resort ( while it is 40-50 degrees C outside! ), and a second one is planned, complete with revolving mountain. Also revolving – each floor of a planned rotating skyscraper, a 'tower in motion' with heliport, swimming pools, outdoor gardens and floors that rotate independently from each other ( from stored solar energy) . There's a Chess City planned, with 32 tower blocks of 64 floors, each in the form of a chess piece, The Restless Planet dinosaur theme park featuring more than 100 moving animatronic dinosaurs, a pyramid and a building called Atlantis that will cost $600m and include a "swim-with-the-dolphins encounter programme", an actual underwater hotel and recently proposed – one of my favourites – 'The Cloud', still in concept design but has to be seen to be believed, a small village ( complete with lake and rotating bridges ) elevated 300 metres in the air above Dubai ( "a translucent floating island" ) and supported on slanting legs resembling rain. Check the artist sketches, I like the guy playing cricket at the base.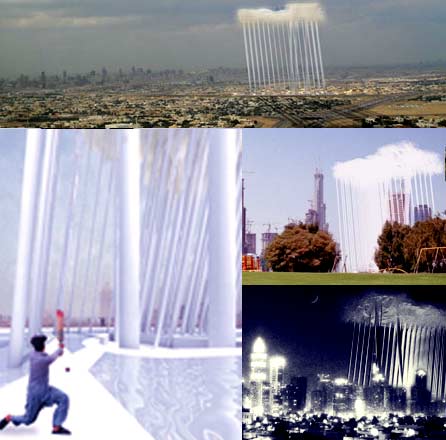 All those projects just end up sounding like science fiction in the end…. for a better sense of Dubai out of controlness, try this all you can eat photo explanation of why one fifth of the world's cranes are currently at use in Dubai.
Arriving in Dubai
Turned out just before June, that the cheapest available Melbourne to Istanbul ticket ( for arriving by a certain date to play pixels with artificialeyes.tv ) was with Emirate Airlines – which also meant a stop off in Dubai, flying in over the desert to a sudden and abundant sprouting of buildings, hyper-green landscapes and football fields, resources from all over the world converging at this one particular location and seeming to swell after every blink of the eye.
Browsing through Open Skies ( the in-flight magazine for Emirate Airlines ), confirmed I was not remotely / ballpark / galaxies near their target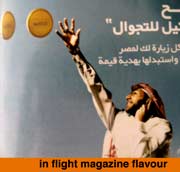 market. Having passed on the calf-skin credit card holder ( only a few hundred euros ) and other delectable duty free items, scanning and skimming the magazine highlighted a few key phrases such as :
"open the door to a new member of the global elite," "(real estate brand) xxxxx, the defined height of luxury," "from the developers of some of the world's most prestigious properties, we present…", and while I quite liked "peerless opulence awaits the elite few", it was hard to go past "a global landmark of grandeur & elegance, to give new meaning to opulence and exclusivity… at this premier luxury address….. owning a Rolls Royce is one of the premium entitlements of luxury living …. A fleet of luxury cars will will be part of your personal asset on a shared ownership basis."
And then flipping open the newspaper revealed an ad for a sand-dune tour guide that used a fleet of Hummers… which maybe makes sense here of all places – its not like they'd run out of oil. Except as it turns out, they will run out of oil within 20 years in Dubai, and have already made plans to shift from this, revenues from petroleum and natural gas contributing to less that 3% of Dubai's 2006 economy.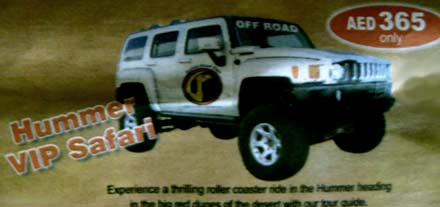 Bleary Half-day Impressions?
Heat. Wealth. Heat. Airport wi-fi. Photo sharing site Flickr.com inaccessible, banned for not matching the cultural and/or politicial views of the UAE. More advertising aimed at people with much fatter wallets. Read about the huge underclass of mostly foreign workers enabling all of this to be built, some 250,000 mostly Indian and Pakistani men who lived in camps and would earn in 6 months, enough money to stay one night at the hotels they were building. Read that although Dubai is one of the more liberal Emirates, gay and lesbian visitors were urged to be cautious with their behaviour, as the punishment for homosexuality is kinda severe…. the death penalty!
And as Andy Nicholson from the Guardian observes (in a juicy article) :
"There is no hint of democracy in Dubai. There is a consultative council whose members are nominated by the ruling family. A group of five old Arab families control the entire emirate. Not the modern centre of the Arab world but, more than that, the Arab centre of the modern world."
Further reading? Wikipedia for the bare bones, Mike Davis for the gravy >> Sinister Paradise : Does the Road to the Future End at Dubai?
Autobot Roulette: