Vast worlds changed hands in twentieth century playgrounds, whenever a well compiled music cassette was passed on. The entirety of the enormous Melbourne International Film Festival ( 26 Jul – 13 Aug ) will inevitably be swapped at future playgrounds in the blink of an eye, a casual zap and transfer. Was a pretty good year they'll say.
Festivals Within Festivals
All @ MIFF 06 :
– Brain Monkey Sushi : Slices of Japanese weird cinema (Funky Forest looks like fun)
– Music on film : Decent selection including Beyond Beats and Rhymes : A Hip-Hop head Weighs In On Manhood in Hip-Hop Culture, LoudQuietLoud: A film about the Pixies, and Godard's Sympathy For the Devil. There's also a live music cinema performance by David Shea – 'Chronopolis' – which is dedicated to composer Luc Ferrari.
– How to Fix the World : is a selection of innovative international video art pieces.
– Short Danish selections, oh and sessions dedicated to Australian, French, Nordic & Experimental shorts and animations including Philip K. Dick's latest translation to the big screen.
A Scanner Darkly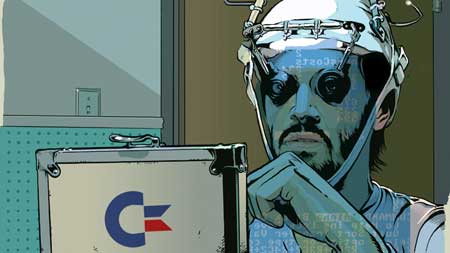 "In my writing I .. question the universe; I wonder out loud if it is real, and I wonder out loud if all of us are real."
– P.K.Dick
Keanu Reeves, Winona Ryder, Robert Downey Jr. and Woody Harrelson all in the same film is always going to be a woozy affair, but it's probably good casting for Richard Linklater's interpretation of this classic sci-fi story, a heady exploration of paranoia within a drug saturated subculture. All filmed and then reanimated like his Waking Life film, also made with animator Bob Sabiston ( http://flatblackfilms.com ) who developed the software for processing the filmed footage. Trailer explaining his process is viewable here. Flatblack films also hosts a free podcast demonstrating examples of their animation and rotoscoping ( the process of painting frame by frame ). Whether the animation process and actors chosen succeed in delivering, undeniably, anticipation is high. Could be so deliciously good, could be so dreadfully bad.
See also http://www.ascannerdarklyartists.com/
Globalised
Amongst the broader palette of documentaries offered, those framed under the 'Globalised' moniker deserve merit for being selected as films with the fangs we need for the world today. An Inconvenient Truth tracks Al Gore's mission to show the craziness of climate change, We Feed The World highlights the immense inequalities of global food production, Oil Crash tackles our near fatal dependency on oil, Black Gold looks at the impact and actuality of coffee production, and Our Daily Bread promises a word-less audiovisual meditation on the industrial food chain. Elsewhere in the programme the melting Arctic is drawn to attention in The White Planet, Iraq in Fragments looks at the region with fresh eyes and a whirlwind of others detail the lives of TV junkies, Cocaine Cowboys and monks in the alps.
Ze International Panorama
Is even harder to get a grip on, featuring a huge array of features fetched from the far-flung globe. Jan Svankmajer's LUNACY promises to combine Edgar Allan Poe and the Marquis de Sade, Werner Herzog's Wild Blue Yonder plays sci-fi games with antarctic scuba diving footage, and the Brothers Quay seem to have a gorgeous live/animated film on their hands: The Piano Tuner Of Earthquakes. But that's just what I'd put on a mixtape, there's so many to wade through.
MIFF 2005 Review
MIFF 2004 Review
MIFF 2003 Review
Autobot Roulette: