Boasting many an award for most subtropical aliases, ever-eclectic Brisbanite MC, beat-producer and gallery curator Suckaphish P Jonez ( aka the Little Plastic Thugdoll, aka the Aquatarian Invader, aka DJ Love Handles, aka MC Lost My Wallet etc ), be a bizzi boi in March:
Curating more 'White House' exhibitions in Brisbane, building a 'White House' installation at the Next Wave Festival in Melbourne ( both with W.H. co-curators Madeline King & Mad Alien-Cawte – pictured with Chopper Read), and while south – hi-jacking every available beat-backed microphone in town. ( plug n play thu 23~! )
Beats & Rhymes : Galleryisms : Next Wave in March :
>>What inspired The White House Gallery?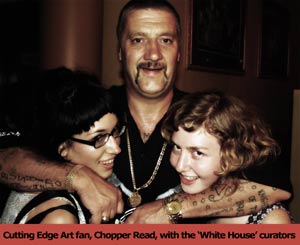 The directors of the Farm asked if we were interested in taking over their lease / developing our own project – a happy accident, we've somehow let loose on the rest of Brisbane. The White House let's us give a venue to the more bizarre, unclassifiable art forms thriving in Brisbane's underbelly, with exhibitions, gigs, film screenings and less classifiable events. With plenty of artist run spaces doing professional, clean cut shows, we wanted to do something a little less polished – where boundaries between the art world, music, design and street culture could fluidly vomit on one another and make bastard little babies.

Favourite exhibitions / events there?
'Spite' – An evening of derelict electro-pop, slop-hop and mutant-trundle-folk verbal stumbling blocks, howls, moans and convoluted rants & rhymes. Featured: CASIONOVA, THE SCRAPS, MC JULEZ AND DJ SIZZLE, NOBODY'S DREAMBOAT (melburn), THE VIETNAM VETS WITH TOURETTES, live karaoke sessions with TOXIC LIPSTICK.
'Hoarders of The Absolute', a collaborative exhibition combusting over a 72 hour period. 7 artists co-created a living, breathing organism with live and live-in performances, large kinetic instruments, 16mm film and video projections, and marathon knitting events. Featured: Sally Golding, David Spooner, Cerae Mitchell, Jacqui Vial, Madeleine King, Joel Stern and Patrick King with help from Beh Wattenberg.
'Mutantric Love Hotel': Genetically incorrect alien sex, bipolar mail order Russian brides, the most romantic DJ in the universe, and a good, heavy lashing of morality. Starring: Nina Ulasowski, DJ Love Handles, Ian Haig, Wayne Nelson, Laura Krikke, Sam Kretschmann, Axel Brandle(Team Plastique), 'Mad Alien-Cawte', Sophie Chapman & Thea Baumann. ( The kinked debauchery of this, buzzed around Melbourne! – jp)
>>Difficulties for curating such a wide range of experimental media?
Keeping it all in focus and cohesive. Less about media, more about how it's used, how it ties into a greater exhibition. Trying to figure out WHY, what makes it different to other exhibitions, gigs, burlesque shows etc? Trying to avoid stagnation, very easy to suffer with 'experimental' media.
>>What's cooking ( in the gallery ) for the next few months?
An expose of Tokyo graffiti, crazy chaotic hand-made kinetic instruments from ex-pat Brisbong artist Ross Manning, and the opening of our specialist sweaty tropical micro-shop, the Cell, selling all kinds of unrelenting unreasonable and uncollectable artists odditiies: CDs, books, toys, mixed tapes, tapered toenails.
>>What are 'The White House' doing at the Next Wave festival?
Setting up a very specialised pavillion, exhibiting curiosities uncovered from untamed corners of savage Queensland. The White house 'Ministry of Leisure, Pleasure, Exotic Feathers and Leather' is a curiosity chamber of Queensland fauna and flora, its savage peoples and their bizarre, mutating relationships. All harnessed and stuffed for the enjoyment of our colonial masters in cultured Victoria. We hope to illuminate the darker corners of our wide land for these cultured eyeballs.
>>Oz MCees and beat-producers are doing it for you at the moment?
Oz Mcees – so many out there, but have to give props to my man Julez, Dragonfly; the Vietnam Vets With Tourettes in Brisbane are keepin their wordz and beats sloppy and loose; Anal Cookie (also Brisbane) are raw, noisy and grimey; in Melbourne – the Awakenings crew, Curse Ov Dialekt and Combat Wombat etc. are all doin' great things lyrically. Beat Makers bangin' at the moment – AOI, Lord Chezwell (both Bris-natives), Pasobionic's beats are beautiful, 4 Layers of 9 and the nutty DJ Wasabi are only a few greats out there right now, keeping it well twisted and abstract in Oz hip hop.
>>Narrate the first few MC'd lines of a Suckaphish feature film?
It'd be a David Attenborough style documentary, with all Suckaphish MCing voiced over by Attenborough, because no one can ever really understand what the hell I'm saying when I play anyway. Lots of shots of me picking my nose, doing off-tap things to microphones and long winded sequences of me trying to mate with females of the species – often unsuccessfully.
>>Beat technology you'd like next year?
I've always liked to keep it simple, using just whats on hand – cheap samplers, eBay casios, circuit bent little presents, the old voice box, records and videos. I'm more into digging up old instruments and recording them, making them twist about and generate some new sounds for me.
>>Suckaphish gigs while in Melbourne?
Tue Mar 14 – Buh Buh @ The Spot 133 Sydney Road, Brunswick
Thu Mar 16 – Uber Lingua @St Jeromes w/ DJs Raseless, BP and more
Mon Mar 20 – Elf Tranzporter's Radius Rhyme One-One night @ The Evelyn
Thu Mar 23 – Monkey Beatboxing & other Audiovisual Synchrony with Jean Poole @ Kent St Cafe, Fitzroy
Coupla other gigs on the 24th and 25th, details via myspace later.
Autobot Roulette: