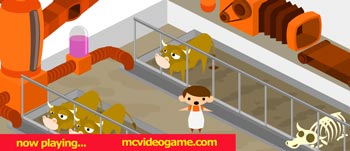 The Hamburglers are, unsurprisingly, an anonymous collective of plunderphonic kids who rearranged McSamples from a fast food restaurant's 70's motivational campaign into funny electronic collagey music ( Free downloadable album ). Now they're also part of the soundtrack for www.mcvideogame.com which takes hilarious delight in letting web users wander through a flash game designed to expose the complex processes behind every sandwich :
"from the creation of pastures to the slaughter, from the restaurant management to the branding. You'll discover all the dirty secrets that made us one of the biggest company of the world."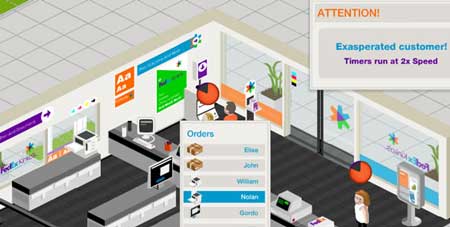 Anyone who has worked at, lined up to photocopy at, or even just wandered past their pre-fabbedness, will also appreciate the videogame parody of the Kinko's copy store, Disaffected, which puts the player in the role of "employees forced to service customers under the particular incompetences common to a Kinko's store". Also by the same crew – 'Airport Insecurity' and many more. Also worth a mention is a rediscovered game I found ages ago –
"Borderland", a delightful "Tekken" style fighter game, where the game creators worked with local people to create their own oddball fighter characters and moves, and set them against the backdrops of their Paris neighbourhoods. Go goat-girl, go the cardboard box man! Gorgeous.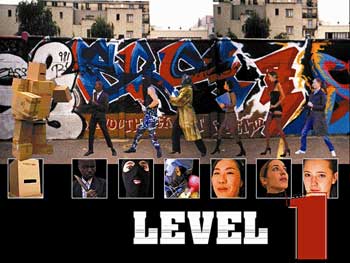 Autobot Roulette: