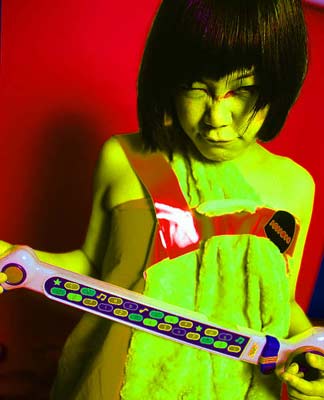 Aye, the annual gathering of media-mutants returns. From Sep29-Oct3, Newcastle again hosts several thousand artists, writers, MCs, zine-makers, hackers, musicians, film-makers, eco-thinkers, gadget tweakers and trouble makers. ( Such as Doddodo from Japan pictured left) www.thisisnot.art.org has the full multi-festival low-down, these are some of the Electrofringe highlights.
Electrofringe Music
Sat 1st sees Ove Naxx (www.accelmuzhik.net/ovnx ) bringing the (Japanese) noise, loud and plenty – with many a glowing live and recorded review under his belt. Ove Naxx plays as part of a 2 storey gig of vast proportions, feasting festivallers also rewarded with performances by Conrad Newholmes ((US) – www.snakebirdrecords.com), Funckarma (Holland), morceaux_de_machines (Canada), Combat Wombat, Severed Heads, Dsico, Collapsicon(Bris), Future Eater(Melb), Toy Death, Ollo, Dave Noyze & more. $15 Saturday 8pm– 2am / Newcastle Leagues Club
Fri Sep 30 is one for fans of the ever eclectic dualpLOVER label, featuring : Spazmodics , Botborg (bris), Eric Kuhlman, Pure evil trio, vialka (Canada), Toxic Lipstick (Bris), Anal Cookie(Bris), DODDODO ( (Japan) – who like like fun – just from their photos… ) , gulpepsh (Japan), justice yeldham. At the festival club, 9pm – 2am. $10
Thu Sep 29 kicks the festival off in style with Dj Wasabi ( in very fine turntable mutation form of late, and returnign to native Newcastle from Melb), Keir, Wake Up and Listen ( ripped a fine set at recent Liquid Architecture), lieutenant colonel spastic howitzer, Ele-mental, re cursor, 8 ball, mute-till-late(Bris) , SuckaPish P Jonez ( Brisbane's noisiest self-producing MC ) & Noise Machine. And probably the sound of ginger beer kegs being emptied every 10 minutes or so, if it can be heard under the chatter of hundreds of interstate relationships being renewed. @ Ze Festival Club – 6pm – 2pm Free
Sun Sep 2 has an 'Elec~Sonic BBQ' cooking from 6pm– 12pm @ The Batcave, with a range of field recordists, experimentalists, film scratchers and more >> Abject Leader (Bris), Lloyld Barrett, Gail Priest and Sam James, Simulus, Scot.d.Cotterell, Jodi Rose, Miha Ciglar (Slovenia/Austria) , xNoBBQx, Monika Brookes, Soul Mirage.
Electrofringe Films
ElectroProjections – Attention Deficit Power Hour, ElectroProjections – The Remix Suite, ElectroProjections – International Ear Candy including; Robert Seidel (Germany), Otolab (Italy) and Takagi Masakatsu (Japan), + Cronica Electronica, A Short History of Machinima, dLUX – Retroscreen, Thailand Media Art Festival Screening Program, Recent Indonesian Video Art Screening Program, Mr Catra The Faithful by Andreas Johnsen ( a film about the one of the most notorious members of the huge 'Baile Funk' music scene emerging from the Brazilian shanty towns) , First Fleet Back; Tallstoriez Productionz. And probably more mini-DV cams in the one place at the one time than anywhere else in Australia that weekend.

Other Festival Bits
There are of course huge amounts of Panels, Workshops, gallery exhibits ( eg Otakuculture ) for frying the collective brains, and stacks of other Electrofringe highlights – including an appearance from Mark Amerika (US). And there are also 5 other festivals happening! www.thisisnot.art.org details the programs for Sound Summit – the Independent electronic music label gathering, EAR the Environment Awareness Raising festival, Strike – a national aerosol and visual artist project ( 40m x 7m), the National Student Media conference, and the National Young Writer's Festival. While there, read about the temporary radio station being created for the event, the new camping facilities in place this year ( book now via the web to join the tent-city madness ), and a host of other simultaneous events, installations, jam-spaces and happenings. Woot~!
Autobot Roulette: