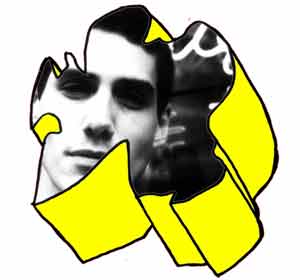 3 separate factoids, choose your own connections:
1. The Melbourne International Film Festival 2005 happens Jul 20- Aug 7, including much experimental animation, digital hi-jinx, foreign film showcases & live audiovisual performances including a large new work by renowned composer David Shea.
2. A large rat currently terrorises the sharehouse of a 3DWorld writer.
3. Cinemas are very dark places.
Buddhist Wrestling
For anyone with the merest interest in buddhism, animal welfare, or just the sanctity of life, a large invasive rat in a sharehouse makes for a pretty hairy ethical wrestling partner. Generally though, the brutality of trap or terminator technology ramps up quickly to match any increase in rat weight or boldness. New York on the other hand, is full of rats, and has one less buddhist now that composer David Shea has re-located to Melbourne. Presumably keen to transcend dealing with rodents, David now channels most of his time and energy towards finding the interconnections and compositional possibilities of collaged samples, written scores, wildly varied forms of audible and visible media, and live musicians.
The Symphony Of Scenes
Extending from his previous audiovisual orchestrations, David Shea and Joe Talia will perform 'The Symphony Of Scenes' live during MIFF, a 'musical cinematic work composed for film/video collage and a musical ensemble of electronics, percussion and samplers'. David Shea conceived the work and composed the music, Kristi Monfries and Micheal Fairlie creating the video pieces. The work plays out in a collection of short scenes, some as tribute to various directors and composers, others manipulating 'the connection and disconnection of sound and image'.
"I won't be triggering live video with this piece, but just the audio accompaniment, which was written then played by performers and recorded and cut-up again for use in my samplers to play against the same live percussionists."
>So then, what interests about 'live cinema'?
It's a complete theatre that takes on board everything – from the history of the space, and the visual – there's always visual choices in any music, whether you choose to perform onstage with curtains and a spotlight or use projected electronic images. It feels likes a new medium that allows so much collage and connection. Arthur Lipsett is a Canadian director whose films I admire, who used still photos, found footage and self-shot material and you never knew which was which, and he always used an interesting sound choice to resonate against his image choices. Each sound or image can change the other dramatically.
>Some of the challenges of 'Live Cinema'?
People generally come from cinema or music – one suffers or the other – video wallpaper with good music or interesting images but poor sound. This is why I work with video and film collagers, with people who work purely visually. I use the visual parts of my brain to create music, and they need to use the music parts of their brains to generate the video to suit compositions. How do you find the connections that exist between the physicality of a computer, the plucking of a stringed instrument, to the technical, spatialised sound, triggered live editing of video?
No-ones really sure, everyone's trying to find a way that works.
>How do you limit your wide range of technology for composing?
I approach music piece by piece. Each piece best suits a certain time architecture, a certain historic layering, and has it's own technology needs. For example, I'm working on a piece about Ramayana with it's Indonesian and Hindu mythology, and so I need to choose an appropriate technology, which in turn will shape the character of the music. Even people that use a sophisticated software environment like max / msp in the end have a certain sound. If you listen enough you can hear the software being used by many people.
>How has your use of samples and samplers changed over the last decade?
There's been a large change – I've ended up working with large ensembles, whereas earlier on I used a lot of appropriation, from my turntable work with John Zorn, then moved onto exploring source materials for samplers.
Over time I've moved to working more with live musicians, doing more scoring, then recording, cutting-up phrases, doing more scoring, then performing the 2nd pieces with the same musicians. I still use a few found sounds, but mostly use live, pre-recorded samples of old orchestration of the same instruments being used by the same musicians on stage. It helps keep a state of maximum confusion.
David Shea Festival Performances:
* 9pm Fri 5 Aug @ ACMI
* 1pm Sat 6 Aug @ ACMI
The screenings of The Symphony of Scenes will be accompanied by a new score performed live by David Shea and Joe Talia.
Artist talk with 'In The Nursery' (UK) about the relationship between 'sound, image and live performance' >>
4pm Sat 23 July @ the Stella Artois Festival Club
Other Festival Highlights:
Powerpoint 05: Digital Shorts – including 'RubberJohnny' – the bizarre new short film by Chris Cunningham, with sound by his mate Aphex. 'Made in Sheffield' – documentary charting the rise of seminal electronic acts such as Human League & Cabaret Voiltaire. Experimental animation selections, Japanese short films, Chinese feature films & so much more. www.melbournefilmfestival.com.au ( jul 20 – Aug 7 )
www.dshea.net has extensive links and discography notes, including his new CD 'Una Nota Solo' on his new record label 'Metta Editions', as well as 'Art of Memory', out now through Sub Rosa records.
MIFF 2006 Review:
MIFF 2004 Review
MIFF 2003 Review
Autobot Roulette: