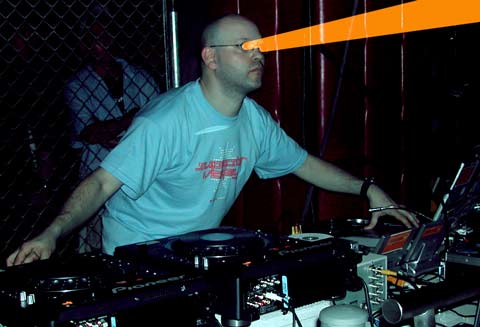 Aside from running the wildly popular Mixmaster TV ( & now DVD ) series, regular AV nights in Paris & London, and setting up one of the world's first VJ labels, Addictive TV have also been building Japanese bridges, getting new av artist releases ready and testing the yet to be released DVD turntables. Founder Graham Daniels explains:
How'd the classic films remix project @ Paris go?
Fantastically. We had Bruce Li the Invincible remixed by Eclectic Method; Nosferatu remixed by Kane & Fodel (Brian Kane founded the AV pioneering Emergency Broadcast Network); Vengeance Valley by The Light Surgeons; Seven Samurai by German AV act Bauhouse, and Cary Grant's Charade remix by The Noodles Foundation was a real crowd pleaser.
What sort of work have Si Begg's Noodle Foundation planned for their DVD?
True to their media- mangling roots, they'll be messing with your mind. They're shooting a lot of material, we're clearing some old late night cult TV for them to plunder. The Noodles guys have worked together for many years, playing live, running nights in London, and share an absurd sense of humour. Robin Mahoney, who heads the visuals side of The Noodles Foundation, produced and directed Glastonbury The Movie.
What excites about the prospect of solo DVD's by The Mellowtrons & Exceeda?
Giles Thacker was Orbital's VJ who pioneered their whole visuals look and toured the world with them, and his Mellowtrons animation style is a little like Terry Gilliam on acid! Exceeda are heavily into AV Cutup and make original and humourous work using a hell of a lot of originally shot footage.
What've been interesting developments in the VJ world?
That there's now dozens of VJ software packages all fighting for users. Visuals and VJing have become more widely accepted by a lot of digital arts festivals and electronic music events. The DVJ-X1 DVD turntables from Pioneer; they'll radically affect the scene in time. You can pitch adjust the speed or scratch the video in time with music when VJing, but its their AV potential where they really amaze.
What's unique/attractive about the Japanese visual scene?
People actually go along to see the VJ play. Glamoove, probably Japan's most famous VJs, have toured across Japan with different DJs in tow. We played in Tokyo at Club Yellow and Womb, and the visuals were absolutely central to both nights, and this year at Ageha – Tokyo's newest 'superclub' – we played alongside 808 State using a pair of Pioneer loaned DVJ DVD decks, plus my laptop and a small DVD player.
( for ministry magazine, 2004 )
See also : another Addictive TV piece.
Autobot Roulette: