'Sound fonts' would be familiar to the musically inclined as a way of downloading new sounds to your soundcard. In a reader's world though, 'sound fonts' are a way of embedding strange accents and unusual voices into text and stories. For example – the slightly nasal & hyperactively high pitched voice of this Rumpelstiltskin interview. To get a bit closer still, with this most comically perplexing medieval travelling jester, maybe try reading while standing on your head, inside a washing machine or hanging from a hills hoist.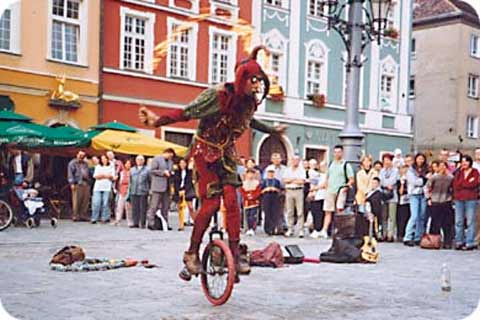 What's been happening in Rumpelstiltskin World lately?
I've just come back from doing a 3 week solo indoor tent show called…'Higgledy Piggledy',at the Adelaide Fringe Festival. I got 2 really good reviews from the main music street press magazines which was uplifting by crikey!
When did you realise you were meant to be a jester?
I guess i was a bit of a goose most of my upbringing. Always getting things muddled up,also being a bit of an introverted classroom clown & also travelling around to & fro like a bit of a wildcard helped pave the way for me to follow the path of jesterdom. I guess it just came naturally & thought if there is any clown character I feel akin to, it's definately the role of the jester. I certainly feel at home with the essence of the fool. My earliest performing memories would of course be just playing around as a child,when the play world was so vivid that I didn't even need a real audience. My imagination would just let my toys enjoy watching me. My first epic jestering marathon stint was at the Byron Bay Music & Arts Festival in 1994 (I did an 11 hour show). In 1995, i did a 10 hour show & in 1996, a 16 hour show.
How many countries have u performed in now?
I've now performed in 31 countries & travelled to 58. So far my faves would be Poland, Slovenia, England, would like to do more of Ireland, Portugal, Spain, sometimes Belgium, Holland, Scotland, Australia, Switzerland & Austria, had a good time in Greece.It's really hard to say sometimes as I like them in different ways for different reasons.
Which countries respect buskers the most?
That can be a tricky question to answer as well…because some countries pay buskers better, but doesn't always mean they enjoy them more than poorer countries do. Usually northern European & Germanic countries have more money than Southern/Mediterranean or Eastern European countries but with warmer countries, people tend to really show their appreciation in a more open way… at times.
Your longest ever continuous performance?
24 hours nonstop was my longest by jingles. I was the last act one night of the Renegade show at the European Juggling Convention in the Netherlands in the No Fit State Circus Tent (Welsh Circus Tent)… & they had to delay the Renegade show the following night so I could do the full 24 hour show. Don't think it will be easy to do that again. The circus tent was full for the last 2 hours & I certainly got a surprise ovation after everyone counted 10 down to 1(whilst the clock ticked round til the last tick to make the full day on stage for the kangaroo fool).
And the secret of your stamina?
I don't know. Just keep going! I didn't even have one puff of a skinny racing horse one puff screamer which is a little ironic since i was in Holland. I guess it was just still having an audience for the whole way. I did eat… but not really that much.
A superhero you'd like to have a unicycling juggling duel with?
Either Mr Magoo,Daffy Duck,Gonzo or Catweasel? Oops!None of them are superheros. What about Roger
Ramjet?Does he qualify? Ok! I'll make it easy! The riddler. Maybe it should be a question match with instead?
What singer would would suit your unique voice in a duet?
Probably almost certainly it would have to be Tiny Tim?
Rumpel_plans for 2004?
I'm just about to embark on a 3 week solo indoor comedy show…'Scrambled Eggs' at the Melbourne Comedy which will be in the Pony Club 68-70 Lt Collins St Melbourne. March 25th til April the 18th. It's a semi-autobiograophical, wildcard journey show which is also an extraordinary visual & aural extravaganza. Includes slide show of photo's & drawings & video projection, toys galore, musical toys, silly music & surprises.
Autobot Roulette: